Boot-up, standby, hibernate speeds
Return from screen-off requires a sub 1-second button press.
Return from suspend requires a sub 1-second button press.
Some applications can prevent suspend.
Re-connection to the same Wifi hotspot appears to be instantaneous on return from standby. New hotspots connectivty is not reliable. [v1.4 firmware]
A full reboot takes about 1 minute. Note: Sometimes Wifi does not auto connect. A full power-off and power-on seems to be the best method of resetting the device.
If the device locks-up, a 10-second press of the power-button performs a complete power-off. User data in running applications can be lost through this process.
Firmware upgrade
Firmware upgrades are automatic when connected to the internet.  A notification message is received when the firmware is ready. This process occurs in a controlled way with our device taking  3 days to update after the firmware appeared in the Archos website. Manual firmware upgrade is possible.
The firmware upgrade process has been smooth on the last 4 upgrades we have done.
In this YouTube video (about half-way in) I find a firmware upgrade. You'll see how easy it was to upgrade.
BOOT options.
Pressing the volume-up button when powering on puts the user into a recovery mode. From this basic menu system firmware can be loaded, a disk check can be performed and re-formatting can be done. The reformatting process will request a firmware at the end so be prepared with a Windows PC, USB cable and firmware downloaded from Archos if you want to do this. (Note: Reformatting will remove all your data and applications)
Accessories
Basic Docking station.
The mini docking station show here is the basic, analogue video solution. It provides USB host/client, quick charging, and S-Video/Composite video output.
It's shown in our unboxing and overview video here.
We love the fact that it supports USB keyboard and mouse and can connect to USB storage devices. Some devices may require a powered USB HUB to work however.
DVR Station.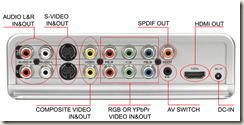 By plugging the Archos 5 into the DVR station you enable the digital recording, remote control and digital output features of the device.
Unfortunately we don't have the DVR station to test with so we can't comment on it in the review. Having used the DVR station from the Archos 605 Wifi though we suspect it to be similar but with the addition of HDMI output.  (Archos information here.)
Other accessories.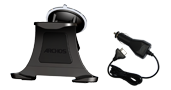 Archos offer a number of other accessories for the Archos 5 including a two variants of the mini docking station shown above. One includes an additional battery (Archos info page) and the other includes HDMI-out in place of the analogue output on the other two docking stations. (Archos info page.) There's also a (European) DVB-T module that can be connected to enable live terrestrial Digital TV (service varies per region. )
Recently added to the Archos website is a simple Car Mount (right) and a slip case.
3rd Party Case review.
Check out our mini review of the Misticaudio case for the Archos 5 Internet Tablet.