Full Archos 9 Specifications and further reading.
Availability and price.
The Archos 9 is available globally through online retailers for prices between 500 and 600 Euros. Our test device was supplied by Mobilx.eu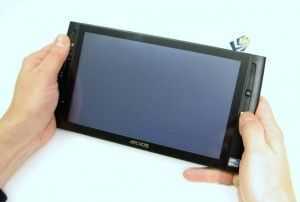 Summary.
The Archos 9 looks great, feels great and due to the current tablet-fever that we're seeing around the Internet, somehow seems like the right product at the right time. In reality it isn't and should serve as a wake-up call to everyone getting excited about consumer tablets. There are huge physical and software issues for tablet PC designers to overcome and through our experience with UMPCs over the last 3 years it's easy to see that the Archos 9 doesn't really solve them. The problem for the Archos 9 however is that it neither hits the mark as a consumer tablet or as a niche ultra-mobile productivity device for ultra mobile PC fans. It's too heavy and too slow, doesn't shine as a media player due to lack of storage, software and online media support. It doesn't shine as a productivity device due to the lack of keyboard and doesn't shine as a mobility device due to weight and lack of 3G. If the Archos 9 had a fast SSD and full tablet-enabled Windows 7 Premium OS with 2GB of RAM and a 1.3 or 1.6Ghz processor it might be a different story as the device would at least then work as a fast, productive ultra mobile PC but even then, the ASUS T91 is already there at just 150gm more.
Alternatives.
Click through to see some alternative devices in our database.
Full Archos 9 specifications and further reading.
Again, the Archos 9 looks great and for web-browsing is a fast, easy to read and reliable device but in practice, this device fails to show any great strengths for the price.