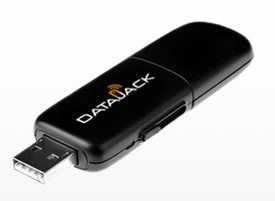 Unlimited pre-paid 3G data via USB stick for $39 per month might sound like a rather unexciting deal for many Europeans but for the U.S, this is a long-overdue breakthrough. Prices for 3G data in the US have been too high for too long.
The service is being brought to the market by DataJack with very few strings at all. On the contrary, it's promoted as a truly flat data service (on a GSM/UMTS network  judging by the mention of 'EDGE' in the marketing material) along with a free moth of service after using it for 12 consecutive months.
We suspect that this is a locked service but fingers crossed that DataJack brings out a SIM-only version of the product. It would make a nice partner for an unlocked MiFi unit.
DataJack to Launch Unlimited Prepaid Mobile Broadband for $39.