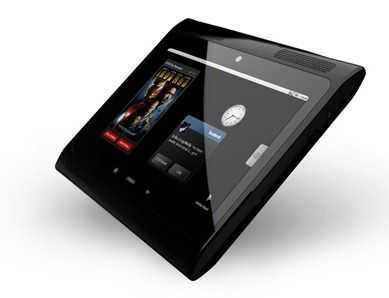 Information on the ICD Ultra appeared via Engadget and NBC (Via Ebooktest)  over the over the weekend and we've just spotted that the information is also available on a new webpage and hidden PDF (currently available here) on the ICD website. The information reveals a ton of exciting specifications including Android V2 and built-in 3G.
Engadget's hands on says:
"The version we had a chance to play with — a prototype running Android 2.0 — was blazingly fast when it came to 1080p playback and web browsing inch
Looking at the specs it appears that we're seeing the first device on the new Nvisia Tegra Platform. Details aren't available but we suspect it to be a multi-core Cortex A5 design. If it's running at 1Ghz and if Android can take advantages of a multi-core OS then yes, this is going to be fast and multi-tasking capable.
Information and updates are being tracked in a new ICD Ultra product page at UMPCPortal
As for size, we're a little dissapointed. The target weight is 600gm which is too big for e-reading. Based on whave we've seen with the Archos 5 Internet Tablet, we're sure that something thinner and lighter is possible. The 16-bit screen isn't going to impress video fans either.
However, if ICD can sell entry-level versions of this for under 300 as is suggested on the Engadget article, it makes it a very very interesting home tablet indeed. 7 inch works well in the hands and looks great on a coffee-table.
Specifications from our ICD Ultra product information page.
Manufacturer: ICD
Model name: Ultra
CPU type: Nvidia Tegra
CPU speed: 1000 Mhz
OS: Android V2.0
Display Size: 7″ 800 X 480
RAM: 256 MB
Flash: 512 MB
Weight (target): 600gm / 21.2 oz.
Size (w/h/d mm) 186/158/18 mm
Size (w/h/d inches) 7.3/6.2/0.7
Physical Interfaces
Micro USB
HDMI
Line-out / Headphone (3.5mm)
Wireless Interfaces
802.11b/g
BT 2.1
3G option
Additional Specs and Accessories (can vary)
FM radio
Ambient light sensor
Mic array
Accelerometer
Stereo speakers
GPS (option)
Alternatives and comparable devices can be found in the product database.
Stay tuned for more information and hands on. We plan to check this one out in detail at CES in Jan.