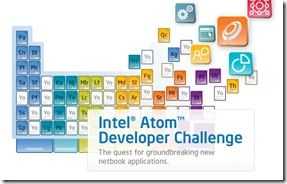 Intel are going to make my Mifi giveaway (coming up this week) look a little cheap! Read on…
Intel have just announced that the SDK for the Intel Atom Developer Program has reached Beta stage and along with the announcement comes information about how you can now start testing and submitting applications to their program. In order to get things moving, Intel are offering some big big prizes. How about a Smart Car or a $20K vacation? There are 100 netbooks on offer too!
Here's a quick summary of what's happening.
The beta version of the Intel Atom Developer Program Software Development Kit for both Microsoft* Windows (C and C++) and Moblin (C) is now available. The features of the beta SDK include authorization, crash reporting, a consumer store client emulator for testing, license management and revenue management.
Now that the beta SDK is available, developers can complete the required steps to submit their applications and developer components for validation to be sold through Intel OEM partner app stores starting in 2010.
Submit early. Win big! Applications submitted by December 21, 2009 are eligible for big incentives.
Enter the Intel Atom Developer Challenge by February 2, 2010. The first 100 validated applications will receive a tricked out netbook, and the talented developers with the most innovative application & elegant application design will win all-expense-paid "rock star treatment inch trip to GDC 2010!
You developers get all the perks. Where's my old Kernighan and Ritchie book?
More information on the latest news and a ton of information links are available on the information page that has just gone live at Intel.