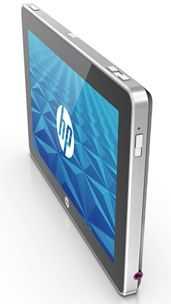 I'm looking at this and wondering if Microsoft and HP simply jumping on the wave of tablet hype and trying to break through with some viral marketing. There's no real information available being given on this tablet so I can only assume it was a marketing move.
It looks like a 10 inch tablet with multitouch capacitive screen running Windows 7 and not dissimilar to a device I had hands-on with tonight.  It's not a bad thing at all and I'm happy to see it but I wish this crazy tablet marketing race would end now.
Don't expect too many details to surface on this one very soon but we'll do our best to try and find out what's going on here. Maybe it will appear in the Intel keynote at CES tomorrow.