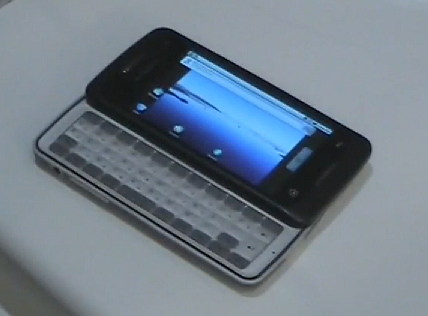 There hasn't been much that has excited me at CES so far this year, but this Inbrics MIDphone running Android is probably the coolest thing that I've seen yet. They are calling it the Inbrics M1 MID for now, but don't confuse it with the UMID M1 [Portal page]. It's been a while since we've seen a good slider, and this one looks rather sleek and promising. Unfortunately Inbrics doesn't even seem sure that they'll release the device at this point, but I'll definitely have my fingers crossed. Jkk says that the keyboard is pretty good and jkk knows his slider keyboards very well. Inbrics says they'll be improving the keyboard a bit as well.
After testing the N900 I'm a bit scared to think about a primarily landscape device as a phone. The issue is that you almost always need two hands to use it. Without really solid portrait orientation support on the M1 (and any other primarily landscape device) it might be tough to make this a mainstream phone.
Check out a video below from jkk and click through to jkkmobile for the press release (under the video) which gives a few details of the device.
[youtube]FVm5mhqAYxk[/youtube]