I've just come from a meeting with Pixel Qi where I was able to get answers to my remaining questions about the technology and to get a real-world demo and I've now got a good idea of where I think Pixel Qi really will fit in.
Firstly though, I have to say that I was impressed by the pixel density and contrast in high ambient light situations and immediately I can see that this is something that can be useful in mobile scenarios. There isn't a standard LCD panel out there that really has enough backlight power to fight against that great ball of gas in the sky so it makes sense to give up that fight and harness the sunlight in a transflective manner.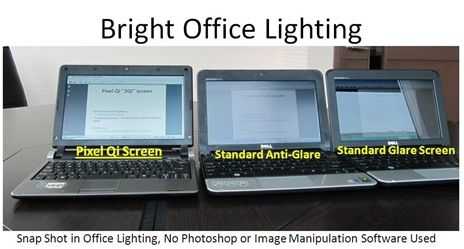 Secondly, this is the first significant step towards converged E-book and Web readers which is something that will happen as soon as it can. Having multiple eletronic readers (or multiple screens) for book and web content is just ridiculous.
In terms of power savings though, one needs to be very careful to put it into perspective. The panel itself can bring down the backlight power requirement from 2.5w to 500mw or less which is a huge percentage improvement but if we take a standard, bright-room, in-use scenario for a netbook as an example, a standard panel is only using 1-1.5W and switching the backlight off (assuming you have enough ambient light an remember to turn the backlight off) saves about 1W. On a good quality netbook which operates in about 5-10W you are looking at about 10-20% overall improvement. On average, I suspect that you're going to see nearer 10% battery life improvements. 10% battery life improvement is very welcome but it's not quite the quantum-leap many are expecting.
Pixel Qi screen technology is really about two things.
1) Allowing manufacturers to produce a premium version of their product or to use it as a differentiator.
2) Allowing device designers to combine a true e-book reading experience in their tablet designs. That means combining web, video and e-book in a quality way. That's something that hasn't really been possible until now.
Overall the technology looks extremely good and apart from the cost considerations, doesn't really have any downside whatsoever and I look forward to seeing converged reading/media devices and improved mobile devices using the technology.
JKK has a video demo from the meeting this morning. Have a look here.