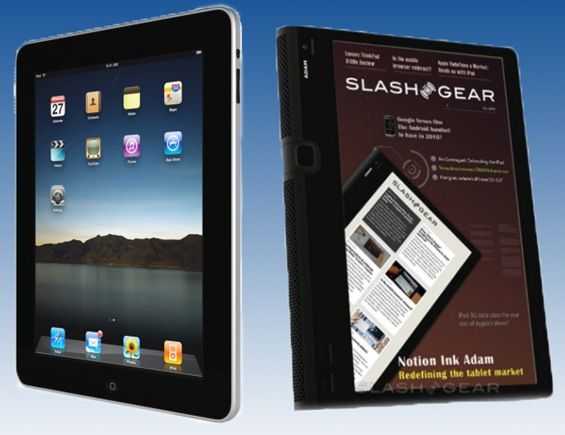 I just finished an overview post on the ever-interesting Notion Ink Adam slate over at Carrypad.com. As I researched the slate, I came away rather impressed with it. While we have yet to see production models, what Notion Ink claims to be bringing to the table with the Adam could very well surpass the iPad [Product page] in terms of power/battery life/features – is this a result of a small company's ability to take risks that a large company couldn't afford?
Most of us are all too familiar with Apple's practices. Step one for Apple usually involves boiling a product concept down and identifying key uses. Next, they design the product around those key uses and make sure that it works very well for them. Finally they produce a well polished product that generally brings existing hardware together with streamlined software in a way that outshines most products in the category, but because the device is designed around specific uses, they often force their users to do things their way.
Then along comes a relatively small company like Notion Ink. I've got to imagine that being small allows them to respond quickly to changes in the market as they are developing their product, which affords them the ability them to incorporate some bleeding-edge hardware (like a dual-core Cortex A-9 CPU, Nvidia's Tegra 2 platform, and Pixel Qi display.) Additionally, being open about the development of their device leaves the door open for feedback and constructive criticism which will all end up improving the final product.
It's unlikely that Notion Ink will sell even half as many Adam slates as Apple sells iPads, but I feel that they have a shot at stealing relatively large chunk of would-be iPad users by being bold enough to include things like a swiveling camera and a rear trackpad. Of course much of this potential will be lost if the price isn't right — as well as how long it takes them to get it to market (neither of which have been announced officially.)
And let's not forget that both of these devices could fail pretty easily if their OSKs don't function adequately.
I think this is a big opportunity for Notion Ink, and I really hope they are able to delivery everything that they have been claiming with this product. What do you think, dear reader? Would you take the Adam over the iPad if you could pick either for the same price? Let us know what your thoughts are in the comments below.