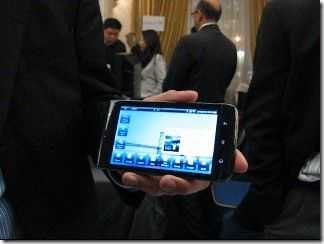 As expected, the Dell Mini 5 was available for hands-on at the Pepcom event at Mobile World Congress and we wasted no time in getting our hands as near to the device as possible. Dell Are being a little careful about handing it out right now which means the software probably isn't ready but in the demo and Q&A we had with Dell we resolved some of the outstanding questions.
Video notes:
The Dell Mini 5 is one of a family of devices.
Available with and without 3G
Available through carriers and the Dell online shop. (Or at least, that's the intention)
Full Google Android experience.
Tailored UI with widgets
Media support for H.264 and other codecs. (Although we didn't get the impression that Dell are targeting this as an Archos 5-killer in that respect.)
Facebook and contacts integration looked good.
On Pricing, Dell say they will address 'price points that customers are interested in.) We interpret this as meaning it will be very low cost with carrier subsidy.
Very nice hand-holdable form factor and weight. Almost exactly the same look and feel as the Archos 5 Android tablet.
Availability will be 'by summer.' We estimate this as June, July timeframe but this could just be for the first carrier-supplied versions. It could take a while for the device to roll out globally.
Overall we're impressed with the specifications and build of the Dell Mini 5, optimistic about pricing  but will reserve judgment on battery life until we've had a good chance to test it. The 5.5Wh battery just doesnt sound like it's ready for all-day action.