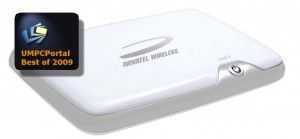 Clearly the GSMA have been looking for guidance on what to choose as a top mobile gadget at MWC, saw that we had awarded Mobile Accesory of the Year to Novatel's MiFi and followed suit by giving their own little award for Best Connected Device (Non-handset)
Or maybe they checked it out and realised it was a damn fine bit of kit on their own.
Either way, Novatel just picked up another award for the MiFi from the GSMA
SAN DIEGO ­ Feb. 22, 2010 ­ Novatel Wireless (NASDAQ: NVTL), a leading
provider of wireless broadband solutions, is pleased to announce that its
MiFi  Intelligent Mobile Hotspot has won the GSMA Global Mobile Award for
Best Mobile Connected Device (non-handset). The GSMA Global Mobile Awards is
the mobile industry¹s leading annual award presentation that honors
excellence and innovation in the mobile communications industry worldwide.
Well done Novatel. Keep that Mifi-love flowing. Our wish-list is below:
10 hours battery life (Bigger battery version?)
USB charging without becoming a USB device
Easier to understand indicator lights. (After nearly a year, I still don't understand them!)
Less heat
Faster cold boot
Firmware upgrade for existing owners to enable GPS and applications support.
The MiFi 2352 (HSDPA version) saved our bacon quite a few times at MWC. It was the hotel WiFi, our live podcast feed and we used it countless times around the site and at events with a cheap, 35 Euro flat rate SIM card from Vodafone ES. I even used it for advertising. I set my SSID as 'Chippy and Carrypad are here' and people actually found me because of it too.
It goes without saying that we thoroughly recommend it and if you're interested in the HSDPA version, it's available through our friends at Mobilx for just 214 Euro inclusive of EU taxes. Trust us, it's worth it! (Affiliate link.)