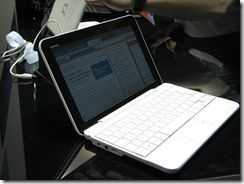 'Always-on' is going to be a seriously important weapon in the fight for the netbook market for ARM-based 'smart' devices. I'm 100% sure that the first manufacturer that brings this seamless experience to customers in a fast, well-designed, well-priced device will cause waves in the netbook market. Customers that switch to the 'always-on' model aren't going to go back to anything less.
Not only is always-on going to allow mail and social network polling and instant-use scenarios, it's also going to enable a whole new range of applications. From a simple alarm clock to video and voice calling, these applications just won't be possible on Intel-based netbooks with the current platform.
I spent a long time with the Airlife 100 today. It's a 100% ARM (Snapdragon 1Ghz) 'smart' device being offered by Telefonica in Spain. Pricing and availability is not known at the moment but we're estimating that this one will be free on a 24-month contract.
The 10-minute video below shows the user interface, applications and a look round the design of the device.