WiFi
Bluetooth
480×320 touchscreen
3.2MP camera
touch optimized OS
Sound like a new product? I wish. These are a few specs from the Sony Clie UX50 which was one of the greatest devices I've ever owned, and one that I feel was ahead of its time. The Clie UX50 was available at least as far back as 2003, and had the ultimate form factor. It was a tiny clamshell device with a swiveling screen that could be folded down flat over the keyboard when you didn't need it. Let me just throw you a few pictures so that you can have a look at this beauty:
At the time of release, the camera on this thing was comparable to what you'd buy if you went out to purchase a new point-and-shoot camera. The 3.2MP camera swiveled in the bezel as well, making it functional as both a front and rear facing camera. Previewing the shot on the 480×320 screen was so much better than the tiny LCD's that they had on point-and-shoots at the time.
This thing was slim too. Check out how it stacks up against the iPhone (iPhone is purple, UX50 is red):

It ran Palm OS and Sony had built a pretty slick 3D launcher to replace Palm's boring menu. If you look at this and you've also seen the Nexus One's application launcher you'll notice that they look suspiciously similar.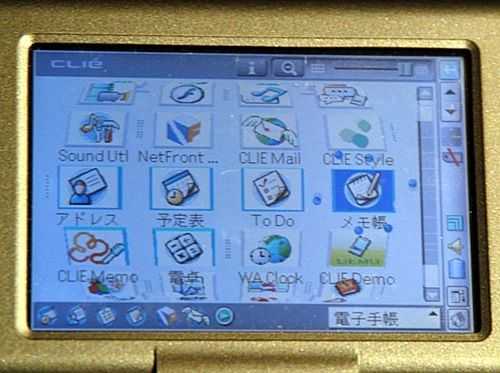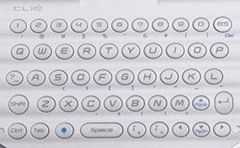 The keyboard was, simply put, the best thumb-board I've ever used. Full QWERTY along with a dedicated row of number keys — it was even backlit! The keys were well spaced and offered great feedback. An intuitive sticky-key system made punctuation and shift key usage quick and efficient rather than a pain, like it is on some devices.
The form factor of this device was seriously incredible and I can't believe that we haven't seen it well executed since the Clie UX50 (not that I've seen anyway). The ability of the screen to swivel fold back around on itself to cover the keyboard was great because you could turn it into a slate in just one second, not only that, but the keyboard also functioned as a stand if you wanted to prop the device up for viewing media.
Now obviously the UX50 is quite old and the hardware is way outdated at this point. If a company came along and could remake the UX50 with snapdragon and Android… I'd have one purchased before you could say "iPad! inch and I think a lot of others would as well. Why oh why did Sony scrap this design and move on to things like the Xperia and Sony Mylo? I wish I could say, but I for one think that they could make a killing with a modernized Clie UX50.