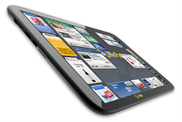 This is the first time we've seen a product built with an Intel Atom processor using Android including, the Google Marketplace application, Flash and Air. Add an 11.6″ multitouch screen and a target weight of 800gm with 6 hours battery life and you've got a very challenging project indeed. Neofonie hopes to make it happen with the WePad.
The WePad is part of an ecosystem of software, content and hardware that works together to offer a way for companies to have end-to-end control over delivery of their content. An 11.6 inch 1366×768 multitouch display is the centerpiece of this tablet that runs on an Intel Pineview (netbook) platform. (Full specs below.)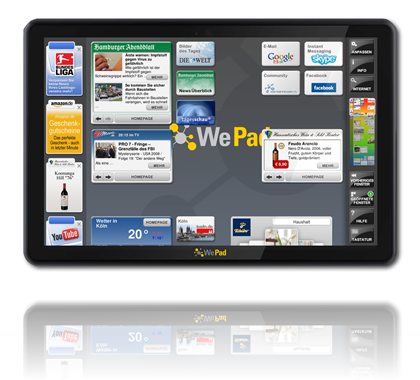 There's no technical reason that Android can't run on an Intel platform and in fact there are X86 builds out there for you to test but its when you add 'Flash' 'Air' and 'Google Marketplace' that you get a feeling for the timescales and risks involved in this project. Even the battery life is a little on the overzealous side. We've never seen an 800gm device running on any sort of X86 platform return 6 hours battery life with a 11.6 inch screen. 4hrs is a far more realistic figure in our opinion.
The strategic partner in this operation might be Siemens and the idea might be good (we're particularly interested to see if Google allow their marketplace on such a device) but the hardware build looks very expensive, the project feels like its going to take a long time and it looks like there are risks involved on the way. We're not getting too excited just yet but we're going to try hard to put our German 'Pad' company in contact with their German 'Pad' company to see if we can get a visit/hands-on/interview set up.  Stay tuned.
Update: More WePad information is going to be announced. Partners will be announced this week and pricing and availability on the 12th April. See Facebook fan page.
Our pricing guess: 800 Euro with 3G, without content/3G deal/subsidy.
English information (PDF)  is available.
Specifications (Translated, Via newgadgets.de)
Display: 11,6" 1366 x 768 Pixeln, Mutitouch
Processor: 1,66 GHz Intel Atom N450 Pineview-M
Storage: 16 GB NAND Flash (optional 32 GB internal/ 32 GB SD Card)
Webcam: Yes (1,3 Megapixel)
Interfaces: 2 x USB , SD Cardreader, Audio output, SIM Card Slot, Multi-Pin Connector
Adobe Flash / Adobe Air: Yes/ Yes
Applications: WePad AppStore and Google Android Marketplace
Multitasking: Yes
Battery: Lithium-Ion Polymer (Life: ca. 6 hours)
Supported eBook formats: All open plus Premium (WeBook), From H4/2010
Connectivity: Bluetooth 2.1, WLANn, optional 3G
GPS: ja (optional)
Body: Magnesium-Aluminium
Size: 288×190x13mm
Weight: 800g (850g mit 3G)
Other: Ambient Light Sensor, Accelerometer, Stereo Speakers, internal microphone.