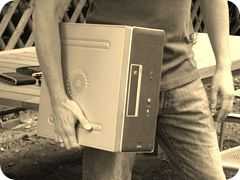 The Internet experience has split into two in the worst way possible. The mobile internet is no longer a subset of the 'Full' Internet; it is now a separate world offering features that the desktop just can't offer and the worst thing is that there isn't a single device and operating system out there that spans the two Internet worlds. In this article I look at the feature-set of the 'Full Internet Experience' and how those features impact netbooks and other 'mobile' PCs.
When I took a stab at defining the 'FIE' In 2007 we had a situation where X86 devices were driving internet development. ARM-based device just couldn't keep up and were, to be frank, useless. The speed was terrible (9 seconds per page slower than the slowest X86 device), the quality was terrible (it was rare to find a smartphone browser that handled Ajax, dropdown menus) and as a result, half the Internet was out of bounds. Web designers had to create special versions of websites. Can you imagine that!
For mobile professionals, the only way you could take the 'FIE' with you was to use a UMPC.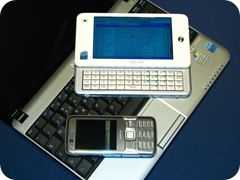 Today, something very interesting has happened. Not only did the smartphone catch up, it has also set new standards for interactivity, personalization and features. Not to mention 'always-on.' In some cases, the desktop browser can't compete. Of course there are still mobile internet activities that only a desktop browser can give you (try plugging in a webcam to a smartphone for example) but the mobile internet on mobile operating systems also offers features that the X86-based browser can't support. What an amazing change in just two years.
In 2007, I highlighted the following features that defined a Full Internet Experience:
Traditional browsing engine. Not a small or medium-screen renderer. Its important that users get to see pages as they were written. This is especially important for Internet applications. Ideally this would be an ie7, FF or even safari-based engine to ensure maximum compatibility. Preferably open source to encourage community improvements.
Tabbed browsing (this is, or will be, a customer expectation.)
Full-screen capability with auto-hide tool/URL bar.
Inline Flash video support.
Export multimedia to media player option. ('open-with' options)
Support for inline audio and video and other multimedia plugins written for the chosen browsing engine.
Ability to handle client-side processing e.g. DHTML, Ajax and JavaScript
Enhancements for small touchscreens -finger touch input panel. On-screen handwriting is not necessary.
Gesture support.
Basic bookmark and history handling.
Simple zoom functions through gestures.
Page overview function (instant full-page zoom-out)
All browsers should be able to perform [these actions] with near-desktop speed – Gmail, iGoogle (fully populated selection of windows ), Meebo, Google reader. YouTube inline flash playback.
It's almost funny to think about tabs and Ajax support in a mobile browser now but that's what the mobile internet looked like back then. Death, taxes and internet evolution. It happens! 2.5 years on from that list above and we've got new features to think about….