It's been about 2-weeks since I last used my daily desktop PC and 2-weeks since I've heard that horrible background noise of fan and disk. For the last two weeks I've been using a silent, modular, 'grab and go' solution based on the Fujitsu U820 ultra mobile PC and it's working out very well indeed. You won't find many solutions like this out there because this is one of the secrets of the ultra mobile PC world that marketing teams and board members get scared about a multi-scenario device!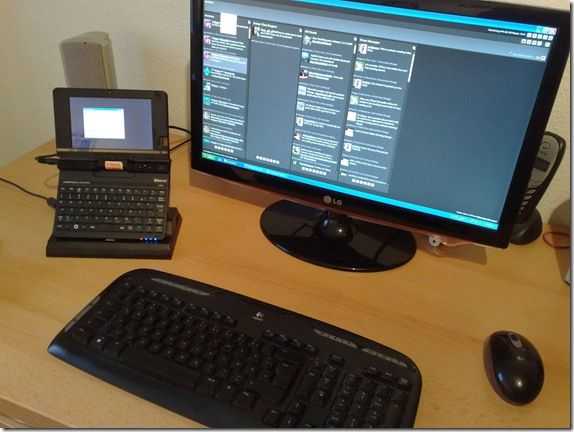 To be more specific, it's a Fujitsu Loox U/B50N that I've been using; the Japanese version of the U820 also known as the U2010. It's a 1.6Ghz Atom-based device with 1GB RAM. Not very impressive in the tech-specs department is it! The reason it's working so well though is  1) A clean build of XP with a carefully chosen application suite. 2) An excellent Runcore SSD which replaces the 120GB Hard Drive. 3) I have cloud/browser-based working practices.
For reference, I didn't exactly have the most powerful desktop around before I switched to the U820. PATA 7200RPM drives on an Athlon 2200XP-based system running 1.5GB RAM with Windows XP is something you might have only found exciting in 2005 but it was more than good enough for my day-to-day work and bringing in the U820 has been a near-transparent change which has even brought some advantages.
It's the SSD in the U820 that has elevated this device from acceptable, to 'transparent' in my opinion. Application start times are as good as on my desktop and everything ticks over smoothly although my definition of 'everything' is probably slightly different to the average desktop scenario. I use a lot of web-based services in my daily work which allows me to contain most applications within the browser and that's the reason I can get away with such a low-powered system. Here's the list of apps I go through in my daily work:
Software
OS: Windows XP Tablet Edition
Windows Live Writer: For offline blog creation. I'm using it to write this.
Firefox 3.6 Firefox is more than just a browser; it's an ecosystem. Here are the extensions I use on top..
– Grab and Drag (for touchscreen use when on-the-go)
– Echofon Simple but efficient twitter client
– Weave For syncronising Bookmarks, cookies, tabs etc.
– AFOM Memory management plugin. Firefox 3.6 gets memory hungry without it.
– I don't use a flash blocker although I'll probably install Flashblock soon.
Google Chrome Used for site development work / debugging.
Putty SSH to my servers.
Foxit Reader
Google Talk IM and email notifier.
Paint Shop Pro An old version (7 I think) that starts up very quickly.
Windows Live Photo Gallery Great for importing and organising photos, uploading to Flickr/Facebook. Basic Edits.
Last.fm player Used for daytime music streaming.
Mobilink Software If my cable Internet goes down, I would just switch to the MiFi.
Synergy Mouse/Keyboard sharing. Was used when I ran both desktop and U820 together. Not used any more.
Audacity Used for podcasts on-the-go with a USB mic.
Opera 10.5 Part of my mobile toolkit. 'Turbo' is a great tool to have when using GPRS.
Skype Sometimes running in the background. I use the excellent Everyman USB Skype Headset.
For email I use GMail. For documents I use Google Docs although I know that Open Office would work fine on this system if I needed to do any offline work.
External hardware.
I'm a huge fan of docking stations and without it, this scenario wouldn't be half as easy. Docking stations increase the availability and capability of a mobile device by far more than their cost. They often come with additional ports too. In the case of the U820, I have:
VGA port connected to 1440×900 monitor. It will drive a 1920×1080 monitor if needed.
USB port connected to Nokia charger adaptor
USB port connected to 160GB 2.5 inch SATA drive
USB port connected to wireless mouse combo. Note: I'm having a few problems with my Logitech EX110 which sometimes locks-up or repeats characters on the U820.
USB port connected to Everyman Headset.
Audio-out cable (not on docking port) connected to HiFi.
USB to Micro USB cable for charging/file tx/managin  Archos 5 / Mifi
Memory Usage:
There's only 1GB on this unit but i'm not having any memory problems of note. Firefox 3.6 used to leak memory but since I installed the AFOM plugin, that problem has gone away. Right now I have FF3.6 with 3 plugins, 3 tabs runing alongside the Last.FM client, LiveWriter, Gtalk and the complete Windows XP Tablet PC edition and I've got 300MB free which is good headroom.
CPU limitations.
Of course a 1.6Ghz CPU limits certain activities. Here are the things I have to be careful with:
YouTube. No full-screen HD
Movie-Maker. Yes, I use Movie Maker but it takes 3mins for every minute of video rendered (M-JPEG source) Previews are sometimes not smooth.
Flash. Occasionally I'll see Firefox taking up a lot of CPU. It's normally Flash content. I will probably install a flash blocker to solve this.
Continued….
Pages: 1 2