In this video from Webciety, at CeBIT Sascha Pallenberg (Netbooknews, Meetmobility), Joanna Stern (Engadget), JKK (JKKMobile,MeetMobility), Carmen S. Villadar (What's Up Android) and Arno Glompner (Blackberry) talk about the Challenges of Mobile Work. Unfortunately I had to sit in the studio so couldn't make the panel but next year, I'll at least be in the audience to heckle!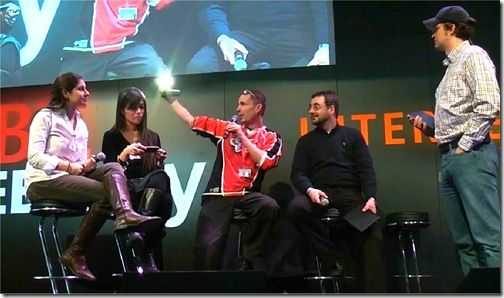 Two important points I picked up from the Video:
Home and work life is now interleaved. That's clear right? There's no 9-5 for many people any more and even if there is, there are private things that get slotted into 30-second breaks in every work day.
The cloud is not mobile. This is something that many people forget. The cloud is great. Mobility is great but the two rarely go together seamlessly. This is extremely important.
If I had just 30 second on this panel I would have brought up the following point:
The biggest challenge for future mobile internet users will be the choice of scaling down the desktop environment for mobile use or scaling up the mobile environment for desktop use. There has been a huge shift in the last two years. The mobile web didn't really take off as new phones proved it was OK to browser full-fat websites but because of sensors and applications and time-slicing, there is now a mobile web world that you can not re-create on the desktop.
I'll be updating my 2007 'What's the FIE' article to reflect this very soon.