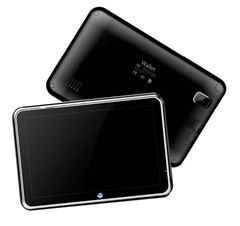 The eviGroup Wallet is a 5 inch resistive touchscreen MID running Android in much the same way as the Archos 5. Based on what is likely to be a Samsung ARM11 CPU though (probably the S3C6410 as we suspect the device is from SMiT) it's not going to beat the Archos 5 on processing power. What it does bring is a low price, a camera and a semi-rugged design. We're not 100% sure yet but it might even have a 3G module in it. It was certainly announced as having it.
eviGroup Wallet full specifications and links.
If so, you've effectively got a 'Nokia N800 3G' running Android on a slightly faster processor. Where the Archos is focused on video, the Wallet is focused on mobile comms.
eviGroup have kindly sent us an email today to let us know that the Wallet is going into production and will be available in May. The price? 199 Euros. And that includes 'a lot of accessories (like a car stand).' Somehow I doubt that 3G is included for 199 Euro but I could be (and hope I'm) wrong.
We contacted Nicolas Ruiz, Director of eviGroup to ask him a few questions about the wallet.
Carrypad:  How long has it taken you to get the Wallet from concept to production status?
Nicolas: Wallet was started in 2007 with some XScale Prototypes. We made some functionnal
prototypes on May 2009, but we restarted the project because the unit worked only with a stylus and Ubuntu Linux. So 90s when the iPhone made a revolution of Internet navigation.
Carrypad:  Have the tablets shown at CES, MWC and CeBIT affected your design choices?
Nicolas: No. We want to make a semi rugged MID and we want to make a "simple" design
Carrypad: Android Marketplace. Did you get approval? How was your experience with Google?
Nicolas: No contact at all with Google. We tried, but nothing :(
Carrypad: How much software development work did you do yourselves?
Nicolas: We will communicate very soon about this point.
Carrypad: What are the key features of the Wallet over, say, the Archos 5
Nicolas: Really good price but not cheap. We want to have the same build quality that Archos 5 but we don't want to be a challenger. Archos 5 has a lot of memory and is designed to watch movies, we want to make a "professional" MID.
Also, we will deliver Wallet with a lot of accessories directly in the package.
Carrypad: The Wallet has now gone into production. Where and when will customers be able to buy it?
Nicolas: Soon on a dedicated website.
So, once again it looks like Google aren't making it easy for OEMs to make a full Android experience tablet. How long will this go on?
We look forward to testing the Wallet and keep our fingers crossed for 3G.
When we get the official specifications, we'll update our eviGroup Wallet full specifications and links page.