It's finally happened. The JooJoo gets an Engadget review and there's really not much to say; because the JooJoo doesn't do much. It's a big browsing pad with very few alternative usage models or software. 1.2KG is, as expected, way too heavy for a single hand usage (pretty dumb when you consider that you're going to need one hand to use the one screen keyboard) and again, as expected, has a complete roadblock/showstopper of a battery life. 2.5hrs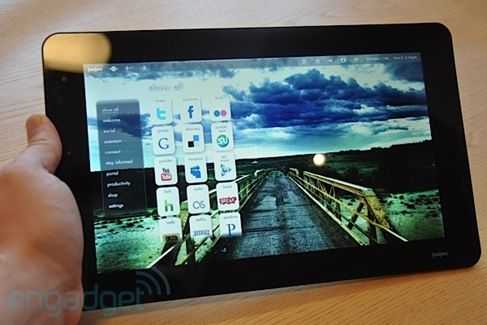 Trust me, when, after 15 minutes use, you start to see 1hr-something on the battery meter, it's a horrible feeling.
Using a (old) netbook platform was never the best design decision because it's just not small/powerful/light/efficient enough. The Intel Menlow platform would have been better.
Engadget wraps up with this:
There are just so many things we wish Fusion Garage did differently with the JooJoo. Even putting aside the fact that Apple's $499 iPad brings more to the table than just web browsing, the JooJoo is less portable, has a worse (if larger) screen, is unintuitive to use, and ships with half-baked software. We commend the start-up on its nice piece of hardware design, but until the software is given some much-needed love and the price is seriously reevaluated we simply cannot recommend this tablet.
I'll wrap up with this:
If you want to mess around with a tablet for web browsing, look at the Archos 7 Home Tablet that is due to launch very soon. It's cheap (under $200) , runs a version of Android and does a lot more than the JooJoo. It won't be as 'big' and fast as a JooJoo but it will allow you to check out some casual (and mobile) tablet action without having to commit to a $500, 1.2KG table-top device. Other alternatives can be found here: