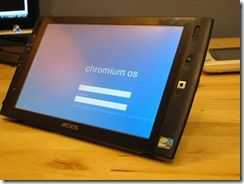 It should come as no surprise to anyone that Google is working on a tablet but even so, I can't contain my enthusiasm for this news. Why? Because it's Google and Android together in the MID/Pad/CID/Tablet space and that means that they're actively thinking about getting Android, their apps AND THE MARKETPLACE on to other platforms. Marketplace is critical for seeding development and further interest in the sector.
There has been a lot of talk about ChromeOS being the choice for pads, MIDs and smart-books but I don't see it happening that way. Chrome doesn't have any of the excitement that a dynamic, finger-friendly UI, location-enabled OS with app-store brings. Chrome is for the table-top. Android is the mobile OS and that fits like a glove on a handheld device.
The news comes from the NYTimes (via Laptopmag) and highlights a number of interesting consumer internet device developments. The best of which is:
Google, for example, has been working with several hardware manufacturers to push its Android software, which was originally designed for mobile phones and is a direct competitor to Apple's iPhone operating system. The company also hopes to make its own apps marketplace available for new slate-like devices.
The article goes on to mention Dell, Acer, Microsoft, Nokia and Lenovo along with a device from HP known as the 'half pint' – a device measuring 6 inch diagonally. I like that thought. Check out the full article and the Laptopmag blog for more.