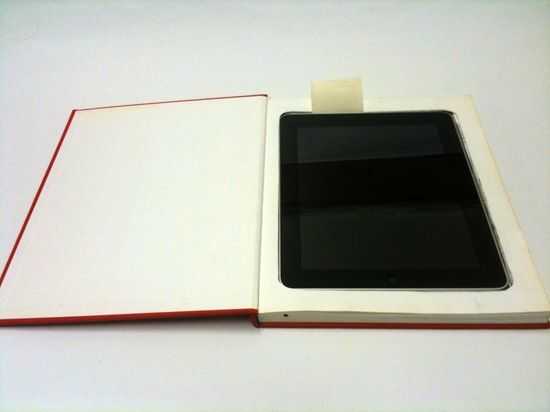 Update: How-to guide is posted if you are interested.
I was in the mood for a nice DIY project, so I picked up about $10 worth of materials (including the book) and decided to create myself an iPad case with a twist.
There were a few reasons I decided to make this:
Didn't want to drop $40 for Apple's iPad case
iPad back scratches easily, I hate to rest it naked on the table
I feel like a pretentious bastard using the iPad in public because everyone knows what it is, but few people have one — this helps me disguise it while in use
On a similar note, the iPad feels particularly vulnerable as a hot gadget, I feel much better leaving it sitting around while camouflaged than by itself
Have a look at the case, and if you'd like to make your own, I've documented the process and will put some instructions up a bit later. I'm sure there are more efficient approaches, but my way didn't require any sort of workshop or power tools. The thing that looks like a bookmark from the outside is a strip of canvas secured with duct tape to help lift the iPad up when you want to get it out of the case (the fit is quite snug).

I'm pretty happy with the results. The great irony here is that I don't read a lot of books! For anyone interested, the book I used was Stand-Up Comedians on Television. Sorry for cutting up your book Larry Gelbart!
Some improvements that I might make at a later time:
Access to headphone/volume buttons/hold button while the iPad is in the case
Moleskine style elastic band to keep the book held closed
I went to a local book thrift store and looked for books with removable covers that looked relatively boring underneath, as to not attract attention. I also kind of dig that old-school material that they used to cover books in, so I looked for that as well. I took the iPad with me to size up some books and I look particularly for one that would offer enough padding around the iPad for be strong and durable, but not too much that it greatly increased the size of the iPad. As long as the book fits inside my backpack then it's fine, as that's where I carry the iPad when it comes with me anyway. I came out of the book store with three books of varying sizes so I could make sure that I got one that fit just right. I used one that I determined to be too thin to be my test book, so I did this whole process on that book first so I could fix any oversights or errors in the process for the final version that is shown here.