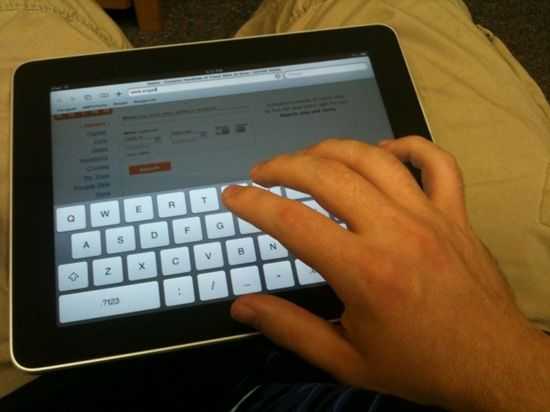 It's only been two days since we got our hands on the iPad, but I wanted to get this out there early as there are a lot of questions. I've made a video to try to give you a sense of what it really looks like to type on the iPad in real conditions. I've also put together a chart using a simple web based typing speed test which I ran on the iPad and on my computer for comparison:
| | | | | | |
| --- | --- | --- | --- | --- | --- |
| | Portrait (touch type) | Landscape (touch type) | Portrait (thumbs) | Landscape (thumbs) | Notebook keyboard |
| Words per minute | 57 | 57 | 39 | 37 | 92 |
| Mistakes | 9 | 5 | 18 | 16 | 3 |
Don't read too deeply into the Mistakes row, as some of the mistakes shouldn't really have been counted due to the fact that the iPad does auto-correct some words (something that didn't sit well with the typing test I used). What is significant is the WPM. While this test wasn't scientific, I would say that the results do a good job of representing the experience in each given mode, but I was surprised to find that I typed at the same WPM in portrait and landscape touch typing. Landscape touch typing felt much more comfortable because the keys are larger than the portrait keyboard. For the touch typing sections, I sat the iPad flat on a table in front of me and I typed with all fingers, just like you'd do on a real keyboard. For the thumb tests, I held the iPad in my hands while typing with my thumbs.
I'm pretty impressed with the speed that could be achieved with the touch typing in both portrait and landscape modes. 57 WPM (and better than average accuracy due to good auto-correction and other factors) is pretty darn good speed for an on screen keyboard (OSK). The issue here is that top speed can only be achieved while you are sitting down and can sit the iPad in front of you. You won't be walking around with the iPad churning out 57 WPM while on the go.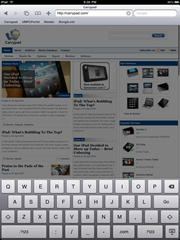 The iPad's OSK is probably the best OSK yet implemented on a slate device of this size. I'm sure that there are some Tablet PC gurus pulling their hair out right now, but I definitely have never seen an OSK that is this effective on any other device of this size. This is due to a combination of good hardware (accurate and responsive capacitive touchscreen) and intelligent software (auto-corrections and invisible landing area increases based on the word that you are likely to type). It may be the best, but the experience really doesn't feel quite right. It is especially uncomfortable when typing with one's thumbs, but unfortunately this is probably the best way to have meaningful typing ability while being mobile with the iPad. The other alternative is to hold the iPad in one hand and type with the other, which works fine for short URL entries, but wouldn't be my method of choice for writing out a few sentences. After typing a short paragraph for the typing test, with my thumbs in landscape mode, my wrists quickly started to become sore. I couldn't see that being a viable method of input for more than a few sentences. I mentioned that the keyboard would be an issue in my article from February — The Big Flaw with Big Slates (Yes, Even the iPad), and I'm finding it to be the biggest challenge to the usability of the iPad so far.
What sort of solutions could Apple have considered rather than simply a big OSK? Well perhaps Apple could have looked into something like Swype which inputs words by recognizing particular shapes that one creates while dragging a finger around to letters on a keyboard. A multitouch capacitive screen such as the one on the iPad is also ripe for a Dial Keys split-keyboard implementation. I hope they at least tossed the idea around during the creation of the iPad, and I also hope that they are still considering it. I'm really dying for Dial Keys on the iPad right now!
Edit: Prompted by turn.self.off from the comments, I just did a quick test to see how many keys the keyboard would allow to be pressed at once and the answer is 11 — one more than the natural number of digits on one's hands… unless, of course, you are Antonio Alfonseca.