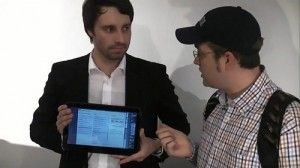 As promised in our extended coverage of the WePad launch event, here are the first hands-on videos from our podcast partner over at NetbookNews, Sascha Pallenberg who was at the WePad launch event today.
The videos appear in the German article over at Netbooknews.de:
WePad erstes "Hands On" und ein paar Eindruecke
Sascha seems quite unimpressed with the event saying that there was only one device available and that was only running a demo slideshow. The WePad wasn't really available to test! First demo versions are planned to do the rounds in May and lets hope they live up to the hype. Riding around the iPad wave is a dangerous sport!
Be sure to listen to the next MeetMobility podcast where we'll talk a little more about the WePad. Unless, of course, it's faded into dark history by then!