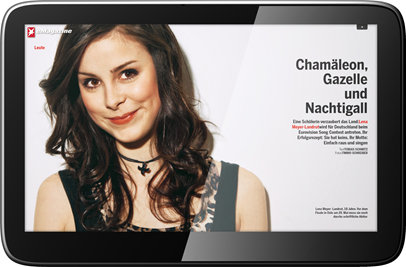 It seems like 'Pad' Fever has hit Berlin today as WePad ride on the wave with their WePad product. Sascha from (Netbooknews, Meet:Mobility) was there and we've been tracking news coming out of the press conference.
Note: Our tracking page for the WePad is here.
Updating as the conference happens…..
Adobe partnership. Flash and AIR will be available.
Joint venture between 4titoo und Neofonie.
Siemens, Intel and Adobe partners.
Chippy: ExpoPC will use the same hardware. Pegtron we believe.
The WePad will support full HD playback. [Sounds like there's a Broadcom HD decoder in play here.]
WePad fact sheet (PDF)
Chippy: We're waiting for price, battery life, availability…….
Stern Magazine (an important German magazine) will be available on the WePad.
Chippy: Looks like a DE-Only focus right now.
Pricing: 'Only' 300 Euro. Chippy: Details of that unknown at present. Is it subsidised? Update: Wrong info from random tweet! See official pricing below.
Image of WePad GUI: (Via @sascha_p)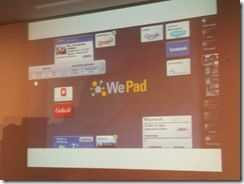 Chippy: No mention of Google Marketplace yet.
Chippy: List of comparable devices (from UMPCPortal database)
WePad 16GB: 449 Euro. (again, no indication if this is subsidised or unsubsidised.)
"449 Euro with 16 GB internal Flash, WiFi. WePad 3G with Full HD chip for 1080p external video, GPS, 32 GB internal 569 Euro inch Via Tabletprofi
Wepad preorder 27.4., soft launch in July, mass availability in August. Via Tabletprofi twitter.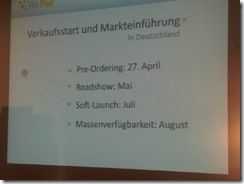 VIa (@sascha_p)
OFFICIAL PRICING FROM WEPAD:
WePad 449 € with 16 GB, WiFi (expandable to 48GB with an SD card)

WePad 3G 569€ 32 GB (expandable with 32 GB SD Karte) with WiFi, GPS, Full HD 1080p
WePad Roadshow will be in May.
Chippy: Outstanding: International availability, Marketplace, battery life, carrier deals?
Chippy: Initial thoughts on pricing: 569 Euro is good for a 3G-enabled device at 800gm. Battery life still could be a showstopper. I'll be interested to see how ExoPC respond.
Chippy: Word coming in that it runs full Linux build but can run Android apps. Sounds like a Dalvik runtime is included. Dalvik Turbo perhaps?
Chippy: Still no word about battery capacity. Usually an indicator that it's not good!
Note: Our tracking page for the WePad is here. (Specs, links, updates.)
Chippy: Still waiting for news about Google Marketplace. IMO it's not happening. 3rd party app store? AppUp? If this is an intel partnership. Is it Moblin/MeeGo? If so, it could have AppUp store.
WePad Facebook page. Official information (mostly German)
AppStore is called the 'WePad Meta-Store' Includes native, Java, Adobe, Android apps.
Chippy: Latest WePad spec sheet is quoting 'around' 6hrs battery life. (=70% = 4hrs online based on usual marketing BS!)
Chippy: Based on latest info, I'm guessing the OS is based on Canonical Ubuntu with their Dalvik Runtime engine. 2nd choice: Moblin core. Not sure where the app store is coming from.
WePad are planning telecoms and media partnerships.
WePad live Pic: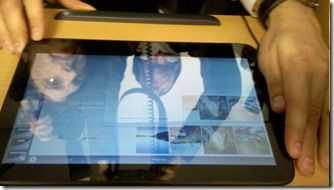 Via @touchmemobile
First Video from press conference.
Via MorgenPostTV
All press photos now in gallery…
Chippy Opinion: If you ask me, they chose the wrong platform to deliver what is effectively an ereader. They are playing a dangerous game by riding on the iPad wave too. 800gm is, like on the iPad at 680gm, heavy. Too heavy. Battery life will be 4 hours online in my estimate. International availability is unknown. There are question marks about Android on the X86 Linux build and if there's no 'point of sale' marketplace, what incentive does any developer have to write apps for it? I can't imagine this having a true Google Marketplace. Not without voice, haptics, 3G anyway. Note: Google were not mentioned as a partner. Final word for today: Competing devices from experienced Android/Smartphone manufacturers will stream-roll this within 12 months.
That wraps it up for now. I've been on the phone with Sascha who was at the conference. Stay tuned to Netbooknews.com (and .de) for his video.