David Flynn of APCmag.com in Australia has uncovered an interesting device whilst at Acer's Source Home conference in Beijing. The as-yet unnamed tablet devices is running Google's Android operating system and sports a full QWERTY keyboard and embedded 3G.
APCmag qouted Acers CEO and president Gianfranco Lanci as saying the device should arrive in Q4 of these year. Lanci also states that although the tablet is similar to the iPad  "We are not convinced that 10 inches is the right size for this type of device. It becomes too close to a netbook in size, and why should it not be a netbook with full PC capability? inch
The device will have Acer's own user interface and be used primarily for "books, music and videos, browsing the internet, email and chatting inch Lanci says, he goes on to say that "Android is very good in terms of Internet browsing and connectivity. You can run it on an ARM processor at a certain speed and Android is light enough not to overload the CPU inch.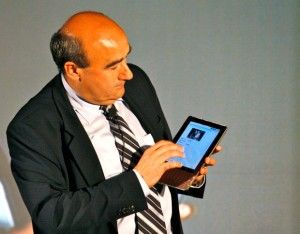 Further details are slim at the moment but from what I can tell it looks like it could make an excellent ebook reader. We'll be keeping a look out for this at Computex next week.
via APCmag.com