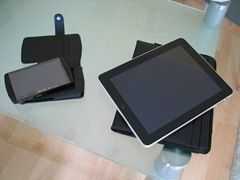 Is it fair to be comparing a $250 5 inch tablet with a $500 9 inch one? Yes because a) people have been asking about it b) comparing anything to a device that gets people thinking, talking and experimenting is worthwhile in my book.
Thanks to the German blog, TouchMeMobile I've got an iPad this week and although I don't intend to do a full review, I am taking the chance to learn and compare as much as possible. This video is a detailed look at the differences and the overlap between two home-focused devices. Music, Video, Internet and E-Reading are at the heart of both the iPad and Archos 5 but each one delivers it in a different way. The Archos 5 is the very personal, lightweight 30cm experience with a lot of flexibility. The iPad is a 1-meter experience with a refined user interface but misses out on some connectivity and flexibility. One is easy to hold in one hand; the other needs two. One has an industry-leading application store; the other something rather disappointing. One can 'play' the web and 720p video out via HDMI, the other is limited to analogue video.
In the 25-minute (get yourself a cuppa!) video I discuss the form-factors, the weight, the video capabilities, the app store, communications and e-reading. The two devices do 'internet entertainment' in very different ways so I hope this video helps you refine your gadget 'wanted' list or buying decision. Feel free to feed back on YouTube or below. For the next week I'll track it closely and try and answer queries ASAP.