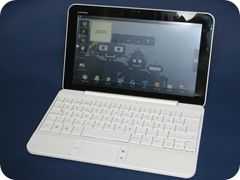 Thanks to over 500 people that stepped into the live Open Review of the Compaq Airlife 100 yesterday. We spent 2.5 hours going over the device and tested as much as we could. Thanks also to JKKMobile for joining-in via Skype and helping out. During the session we made three live recordings which are now available at Ustream. They're relatively long but hopefully interesting to people looking towards the 'smart' devices sector. There's a lot to learn from this 'always-on' device segment.
I've embedded part 1 of the session below and the links to the two extended segments are included below that. Check back on Carrypad tomorrow for a review article.
Full specifications, gallery and articles list is available in our Airlife 100 tracking page.
Part 2 is available here. (More general testing. Q&A.)
Part 3 is available here. (Video, audio testing. Apps testing)
Note that while Ustream provides a fantastic free live streaming service, streaming of recorded videos is sometimes a little hit-and-miss in our experience. Early morning viewing is recommended!