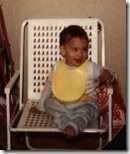 My name is Guy Adams and I'm an I.T consultant in Robin Hood country, deep in the heart of the UK. Chippy has asked me to join the excellent team here at www.umpcportal.com as an article contributor and I hope to be bringing you some posts on the latest ultra mobile pc's  around the technology space.
I have been posting on my personal blog Guy Adams on Technology for just over three years and have been following Chippy's sites for around the same. In my job I get to see a lot of technology some of which I hope to introduce you to.
I would like to thank Chippy and the team for the opportunity to let my inner technology geek out and I look forward to getting to know you better over the coming months.