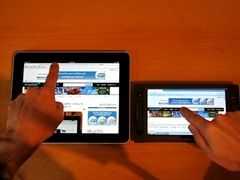 In press events on Tuesday, Intel launched Moorestown and gave journalists their full marketing package on the smartphone and tablet-focused platform.  The key highlight was 'performance' and one element I want to focus on is Web browsing.
In tests I've been doing with many devices over the last 6 months using the SunSpider javascript benchmark, the Atom CPU, running at 1.3Ghz, whips the A4 CPU into the ground with a >3X speed advantage. Moorestown, with its 1.5Ghz clock looks to improve that to a 4x speed advantage according to the slide below. That's a huge win for web-based applications implemented in AJAX.
Of course, javascript is only a component of the total time needed to fetch and render the average web page so I decided to do a real world test.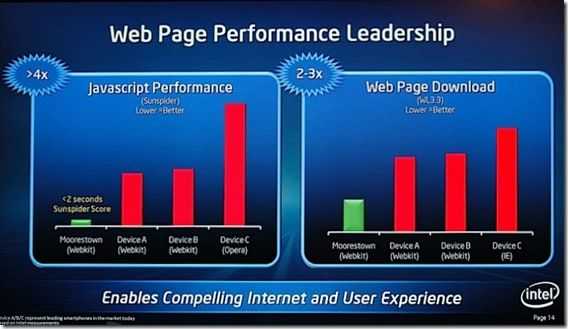 To simulate how Moorestown would perform under web-browsing conditions I took the Intel Atom-based Viliv X70, a 7 inch tablet with a 1024×600 7 inch touchscreen running Windows XP Home, installed the latest Google Chrome, locked the CPU to 800Mhz and did some random web browsing tests. Remember that the Menlow platform used in the X70 is very close to the architecture used on Moorestown. The CPU are GPU are architecturally almost exactly the same. I side-by-sided it with an iPad which is, according to my tests with the Archos 5, X10 and HTC Desire (all running high-end ARM V7 architecture cores) the fastest ARM-based browser solution out there.
The video below shows that the browsing speed with the Viliv at 800Mhz is almost neck and neck. An 800Mhz Atom on a multi-tasking OS matches a 1Ghz A4 on a single-tasting OS. Ignore the UI and product, this is just a test of web page loading speed.
In the second part of the video I boosted the Atom CPU up to 1.3Ghz, the maximum on this platform, to simulate what would happen when a Moorestown smartphone ran at the highest clock-rate of 1.5Ghz. Remember the CPU and GPU architectures in Menlow and Moorestown are the same although Moorestown has a 200Mhz advantage here, can support faster memory and has a faster GPU clock.
The difference is very noticeable with the X70 rendering pages much more quickly, even with Flash enabled. Move to Firefox and disable flash and the difference is even bigger.
I see real-world advantages here. Faster, full Internet experience and a huge advantage for web-based applications and compressed or encoded content although it has to be said that in this high CPU-load scenario, battery drain on the Moorestown platform is likely to be slightly (although not considerably) more.
Remember, we're ONLY comparing CPU platforms here and in this simulation, the Moorestown platform is showing great potential. It can deliver web pages, process script, decrypt HTTPS, GZIP and images much faster than the best ARM-based solution out there. It also adds multitasking and large memory support too. As a platform, if it delivers on the battery life claims, Moorestown is going to be a great, high-performance smartphone, tablet and even netbook option.
Recommended reading – Why social netbooks have a 'lock-in' opportunity. In this article I talk about key features of a smartbook. Many of these apply to a Moorestown/MeeGo-based product.
Recommended reading Anandtech on Moorestown. Detailed with good background research and knowledge.