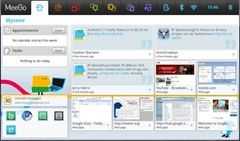 This won't take long. What we've got here is a Moblin build that has picked itself up from being stopped-dead in it's tracks buy a huge corporate direction change. I imagine that partners that were working with Moblin before MeeGo was announced are pleased that they can finally get back to work in optimising their builds for end products. The core build has been changed and there has been some re-working of the user interface. Chrome has been added as the browser. What is also clear though is that the pace of development appears to have picked up and the MeeGo teams are committing to a six-month cadence meaning that those partners can re-write their roadmaps now and that the products promised last September, can now move forward.
I installed MeeGo 1.0 'Netbook User Experience' on a Medion Akoya netbook (an MSI-Wind clone) last night and it was a smooth experience. First-boot was fast at 27 seconds including my usual 10-second BIOS-lag. First login was simple although there were no options to set up contact syncing or online accounts which are core to the MeeGo experience. The 'netbook user interface' is almost exactly the same as on Moblin and is modeled around the 'home zone' and other zones that can be activated. People and Internet being the two most important. As before, the UI is fast and bubbly.
It's a Chrome OS!
Chrome (Chromium, the open source version is being tested here but there's a true Chrome version available too.) is the major change for the end user and I have to say it's a good one. It appears to be a recent build because it's flying through the Sun Spider Javascsript tests. 1.8s is a very respectable time. Full-screen works and Flash is integrated meaning you can expect to operate just as you would on a normal desktop. I used Google Docs to edit a spreadsheet and Flickr to upload some photos without any problems. Facebook works as expected too. If we look to MeeGo on Moorestown, you've got the basics of a product that could be the best and one of the most productive smart-books or 'cloud' books to date. Add the Intel AppUp store and you're starting to solve that problem too although Chrome's Web Application store will be interesting to see working on this.
Basic Applications
There's an email client (Evolution), a messenger, a reasonable media experience (certainly the Banshee media player seems to be quite feature-rich although I haven't tested video support yet) and there are a number of other basic apps available through the application manager and 'Garage,' a slightly more end-user-friendly application installer although nothing seems to be working in Garage right now.
Photo and screen-grab. Image top-right is also from testing.
Other notes
Sleep works (Using sleep button on keyboard)
Gmail contacts sync working (uses SyncML)
Home screen still somewhat limited. 6-tweets on a 1024×600 screen is not exactly efficient use of space!
Chrome Browser crashes occasionally
AppUp store install fails
Media player fails to play imported MP3s
No GMA500 (Menlow, Poulsbo) support.
Read/Write to USB sticks and SD cards is no problem.
It's a shame that MeeGo 1.0 hasn't moved forward from Moblin 2.1 in terms of end user experience and there's no way that it will challenge XP or Windows 7 in terms of productivity and flexibility (printing, network shares, application quality, etc.) however when you combine the thought of an efficient Chrome-based Web-focused OS and MeeGo's future compatibility with the 'always on' Moorestown platform combined with a layer of 'finishing' you can see some nice possibilities for 'smart' productive devices. Certainly the full-internet experience is a major advantage with MeeGo compared to Android. Apps are needed though and until a nicely designed and well-marketed, polished MeeGo product hits the floor, developers aren't going to be that interested. Maybe that changes after Computex.
We'll be connecting with Intel's software group at Computex next week so stay tuned for more information on the future of MeeGo, netbooks, handhelds and Intel's 'smart' platforms. In the meantime, take the time to have a look at MeeGo 1.0 with the netbook user experience in the video below.