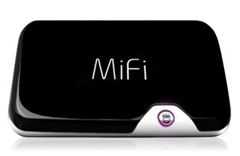 If you've got a Novatel Mifi 2372 (Canada) or 2352 (Europe) model, you might want to read this.
Update: Readers have confirmed that the 2352 is affected. See comments below and check back here for feedback from Novatel. I am in direct contact.
Apparently there have been some battery swelling issues reported on the 2372 related to Bell which have caused the battery door to become jammed. In two cases, it appears that customers have punctured their batteries by using sharp objects to remove the cover.
Engadget have reported the story (in a rather sensationalist fashion considering that this is a safety issue) and we've had a call from Novatel themselves who took the time to detail the issue.
Two carriers in Canada have reported the issue and Bell have made the decision to disable their MiFi's remotely. (There's a remote-kill feature?) Novatel have kicked off a program of battery and battery door replacements through the two carriers and issued a product advisory.
Note that there is no product recall taking place.
What they fail to address is the 2352 which is the same device with European HSPA bands. Novatel confirmed to us that the 2352 is the same design so one assumes that the same battery supplier is used and that the same problem can occur. 2352 owners out there, please be careful. Don't use sharp objects to open the battery cover and if you experience a swollen battery, please let Novatel know (and drop a comment here so that we can pass it on too.)