The Compaq Airlife 100 just arrived from Spain
It's one of the first true smart-books / social netbooks (*1)  and a device I believe will show us exactly how touch, always-on, always connected and social networking will play a role in netbooks of the future. It will be available soon in Spain through Telefonica's Movistar service provider.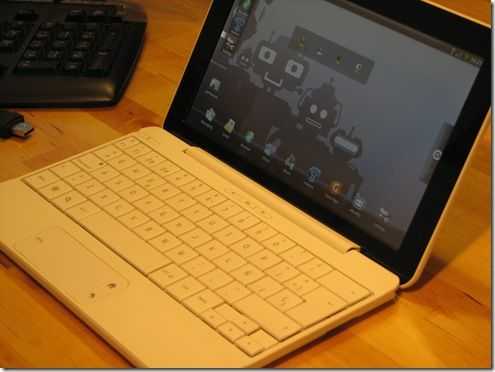 Here's the plan. The unboxing and overview is done and uploading now to my YouTube channel
Later, I'll get down to the studio for a LIVE video and chat session. Lets say, 2200 CEST (check the time at your location) at Carrypad.com/live.  See you there for a few hours testing of one of the first ever social netbooks. (*1) Some parts of the session, not all, will be recorded. Tomorrow I'll write my first impressions here on Carrypad.
[*1 Smartbook is a trademark of  Smartbook A.G. in Germany where my company is based. They sell netbooks and laptops. To avoid legal issues, Carrypad uses the term 'social netbook' to describe an always-on, always connected netbook running on a mobile focused OS and hardware platform.]