I wanted to live with the Acer 1825 PT [image gallery] for a couple of weeks before I posted a review because using it for a couple of days isn't a good test of any device. Its been a great work horse but not without its faults. If you haven't already, check out my unboxing video.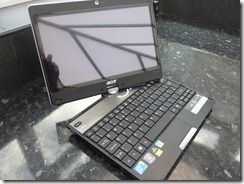 Hardware
Overall the look of and feel of the Acer is good, its very compact and not too heavy, although at 1.72 kg (3.79 lbs) it does begin to feel weighty when using it one handed. The screen is bright and crisp and the 1366 x 768 resolution is perfect for the 11.6 inch screen size, touch input is accurate on the capacitive touch display and you rarely find yourself having to press multiple times when trying to hit on screen buttons like the classic close program. One of the major downsides to the screen is its highly reflective, probably more so than any other device I have used or owned. This is a major point, when using the screen in a well lit room like an office or for example a hospital waiting room, the viewing angle is tiny, this often means the angle you are holding it at is a strain. I've lived with this problem for two weeks and have learnt to deal with it but if you spend a lot of time in well lit places then you must take this into consideration, even more so if you plan to use this device in tablet mode often.
One of the other advantages of an 11.6 inch device is the keyboard, the Acer 1825 PT has a full size short press keyboard which is perfect for typing on. In no time at all, my words per minute speed was up to the same level as it would be when using a full sized desktop keyboard which is a huge boost to productivity. There is some flex in the keyboard which does leave a feeling of low quality but it certainly doesn't effect typing speed.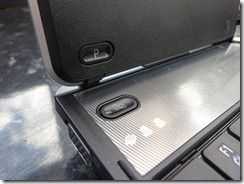 There are two additional hardware buttons on the Acer, a 'P' button the screen bezel and a Acer Backup Manager button above the keyboard. The 'P' button has three actions, CTRL + ALT + DEL, print screen or a customisable program launcher. It lacks a screen brightness function which given how reflective the screen is, should have been included.
Another issue I have come across during everyday use of the Acer is the screen hinge. The hinge itself feels pretty solid and robust but it isn't stiff enough, when you pick up  the device in laptop mode the screen almost falls back to the flat position and you have to be weary when moving the Acer about because of this. The screen can also only be twisted in one direction which isn't uncommon for convertibles, although is a learning curve.
Performance
The Acer 1825 PT's performance has been excellent, the Intel Core 2 Duo SU7300 is clocked at 1.3GHz which when coupled with 4GB of RAM means Windows 7 steams along. I have done some serious multitasking on this device, Chrome with several tabs open, Windows Live Writer, photo editing, Outlook 2010, Evernote, Skype, Live Messenger all open concurrently and with no noticeable slow down or reduction in performance. For a convertible of this size its mightily impressive when it comes to productivity. Cold boot times for Windows are nice and quick and your looking around a 30 second wait for the device to boot into the operating system.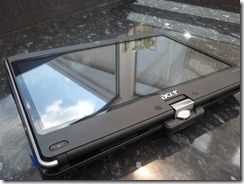 Video playback has also been excellent, YouTube HD isn't at all an issue as you would expect from the Intel 4500MHD graphics unit. As a further test I had the film 2012, both in 720p and 1080p encoded in the matroska format. On the Acer's display the 720p version played without a hitch with no noticeable frame's dropped. When outputting 1080p to a 40 inch LCD via the HDMI port, video became choppy and the audio lost synchronisation, however 720p video playing at the TV's native resolution of 1920 x 1080 worked perfectly and looked great. With Xvid, WMV and H.264 file formats and encoding, video playback at both 720p was near on perfect. This is down to the 4500MHD GPU which can share up to 1695MB's  of the system RAM.
Battery life has excellent and not far off Acer's figure of 8 hours. I have regularly achieved 7 hours with 40% screen brightness and WiFi turned on when web browsing or writing. This figure drops significantly under certain circumstances, one of which is video playback. Running the 720p version of the film 2012 on a loop the Acer managed a measly 3 hours and 50 minutes before going into hibernation, this has been true of any situation that utilises the graphics controller on the device, including flash video playback. The other strange circumstance I have suffered with the Acer is sleep. If you sleep the device the battery life time is significantly reduced in less than a 12 hour period, I found that if I used the devices for several sessions in a day with a one to two hour intervals of sleep in between sessions the battery would be reduced to 5 hours. I'm really not sure what is draining the battery when the Acer is asleep but by using hibernation this problem is resolved. The obvious issue with hibernation is the 10 seconds for Windows to resume which hinders productivity.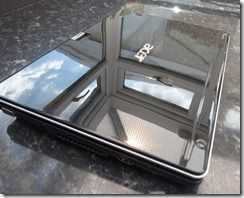 Software
There is an unfortunate amount of crapware that comes preloaded on the Acer, this took a good 30 minutes to remove the unnecessary software. Acer include a whole host of  software with the 1825, including crystal eye webcam software to enhance video calling through Skype and Live Messenger and a backup manager linked to the hardware button I mentioned earlier. Also included is the Acer Touch Portal which has the Microsoft Touch Pack programs and Windows Media Player enclosed into a custom user interface, you can access it through a corner of the desktop which looks like a folded over page. Its a pretty poor attempt at a UI, it looks ugly with a front room type layout and lacks finesse. You can access the Microsoft Touch Pack programs separately through the start menu which makes the Touch Portal redundant. A 64 bit version of Windows 7 Home Premium is also included with full touch support including the Tablet Input Panel (TIP).
Touch Features
We have said before that Windows 7 isn't built from the ground up to be finger touched, there are too many small buttons and scroll bars that require a precise input like a stylus or pen to operate. However, at the panels standard resolution I have found it actually very easy to operate and navigate around Windows with finger touch, the pixels per inch seems to be a good balance of resolution without making items too small to hit accurately.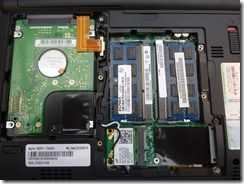 I also wanted to demonstrate the screen with a capacitive stylus for ink input. I know many of you would be looking at the Acer 1825 PT as a device to ink on and I believe it is achievable. If you are happy to hold your wrist or palm on the bezel of the screen, then stylus input works without issue. I have ordered a capacitive stylus but it has not yet arrived, if and when it does I will do a demonstration video of ink input.
Conclusion
There is a lot to like about the Acer 1825 PT, its performance and video playback features are excellent, even the battery life is good and has been better than expected. Windows 7 performs very well on the dual core processor and the 300GB's of storage means you shouldn't have to worry about space. For me I'm still unsure if its going to have to be returned, the screen reflection is a big drawback and I have found constantly changing the position of it in tablet and laptop modes is a real pain.
If you have any questions then fire off below and I will do my best to answer them.