I took the train down to Munich today to meet up, or rather, Tweet-up, with Intel. It was a great evening and there's more to that part of the story but it's the City Night Line night-train back that I want to tell you about now. I'm on it as I write and I have 6 hours until I arrive at Bonn so let me tell you a little bit about a single cabin on the night train from Munich. Ultra mobile fans will be just as excited as me!
Update Feb 2019. The Deutsche Bahn has removed the City Night Line from service due to profitability issues. Three are still some Europe-wide night trains that pass through Germany but these classic and wonderful night trains are no more. A planned Luna-Liner network across Europe is still not in service.
The Boy Scout in me did it. Rather than book a hotel I wanted to test the night train so I booked a single sleeping cabin for about 120 Euros (normally about 150 Euros but I have a 25% discount card) on the 22:43 from Munich to Amsterdam. I didn't know what to expect although I had high hopes. German high-speed and long distance trains by Deutsche Bahn are normally excellent and I've had nothing but good experiences with them so although I knew I wouldn't get the Orient Express, I was expecting some good German engineering and possibly, some sleep.
I feel like a kid. Really. I've been telling everyone about my 'nachtzug' and looking forward to checking it out but the wind got taken out of my sails at the meeting this evening where I heard nothing but nightmares. 'Murder on the DB Express' said one. 'You'll feel like you've been beaten up' said another. Oh boy.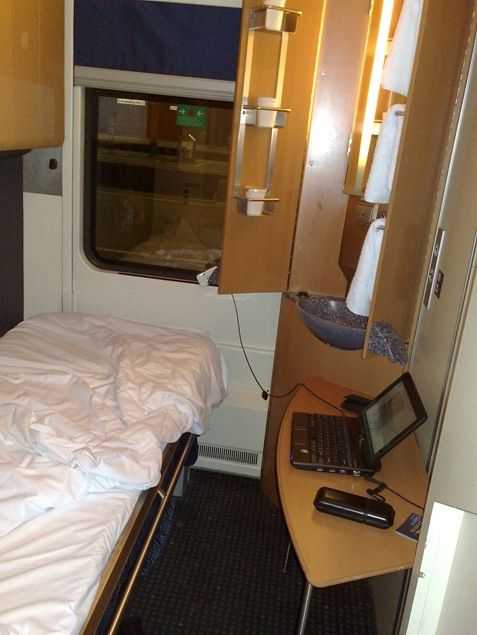 Tada! Viola! Uberaschung! What a pleasant surprise. he City Night Line sleep cabin in single-person configuration.
This is turning out to be quite the fun experience. Here I am sitting on the side of my bed with a Mifi hotpost serving internet, a friendly conductor, a wake-up call and take-away breakfast planned for 0500 (20 minutes before we arrive,) power, a relatively smooth ride (I'm a baby, I love sleeping in moving vehicles) and a cold German beer. I've been shown around my room, given a demo of the multi-option lighting, checked out the built-in wash basin and even have a card-key to lock my door when I go to the toilet or shower. Yes, on-board (although shared) shower! I'm so excited that I'm not sure that I need to sleep tonight.
[Pause as we stop at Guenzburg station and I take a picture of my ever-changing window scene.]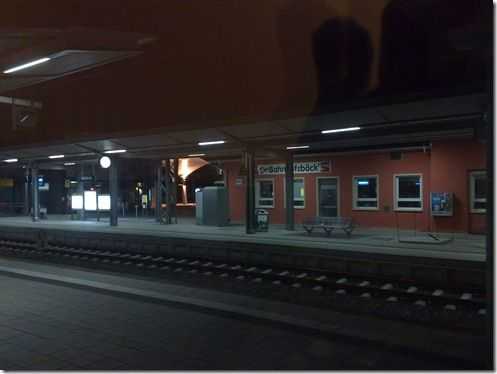 So let me show you round the cabin.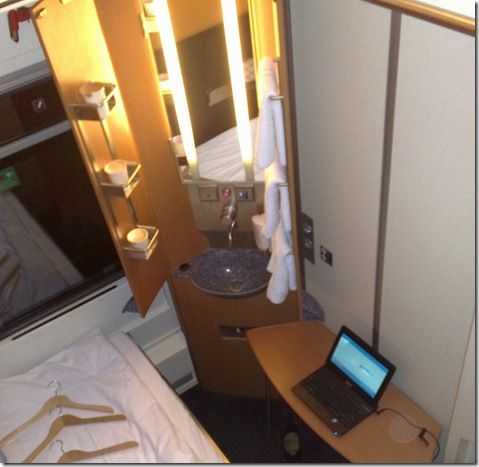 From above. This isn't exactly a huge room but I feel sure I've had smaller ones in hotels in Holland. I can nearly touch both walls, lengthways, at the same time and we're only talking about a width of about 200cm. There's no en-suite toilet and the walls are thin. Ear plugs recommended! This is an extremely small room.
The room is engineered with three fold-down beds on top of each other. (Pic, left.) With three people, this isn't going to be the most roomy of experiences and bear in mind that if you book one bed in a three-bed room, you won't know who you're sleeping with. Scary! I've got the single option here and having walked along the wagon, I think I'm the only one (although apparently there's a first-class option somewhere!)
The room has controllable air-conditioning and has a range of lighting options from blue night-light to reading light, spot-lights and a full-flood light. There's a stow-able table that extends right out to the bed where I'm sitting and working right now. The corner area houses a basin with soap, warm water, fresh towels, a shaver power socket and a lighted mirror.
Everything is clean, everything works, nothing is broken (as far as I know) and everything is solidly built. There's hardly a squeak or rattle to be heard. German engineering folks!
Air-conditioning, volume (for announcements) and the emergency brake. Blue night-light too!
In one corner of the room, you've got the wash area. Set-up for three people it looks good although I recon there's some room for more engineering here. How about a little shelf?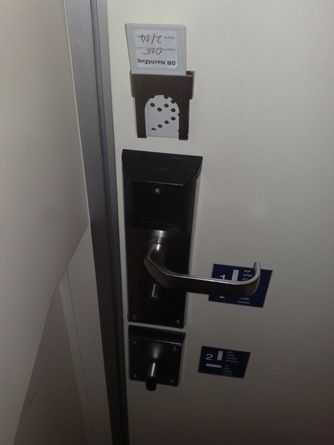 Double-lock doors and a card-key give at least a feeling of security. Bear in mind that anyone can walk through this section of the train.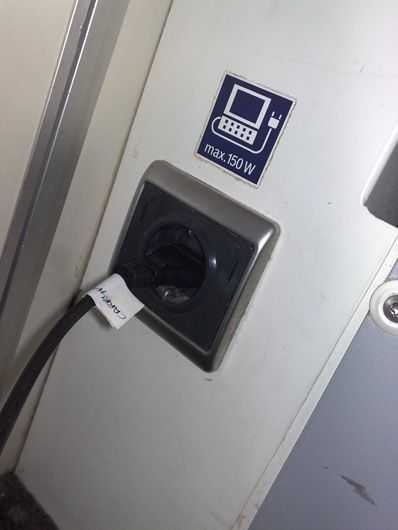 Power! The most important consideration for a travelling blogger. 150W is enough for most laptops but the conductor claims that my laptop (a netbook) is the first one that's worked on the supply. Apparently most people use the shaving socket!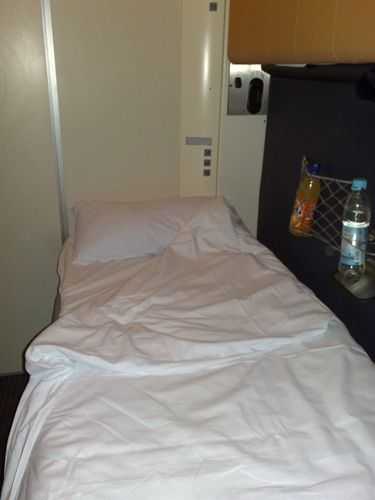 And finally, the bed. Solid, about 200cm long and with clean sheets, it's something I'm going to enjoy very much after I've posted this.
Blogging while mobile just took on a new meaning. Goodnight everyone.
P.S. Obviously my hotspot is working too!