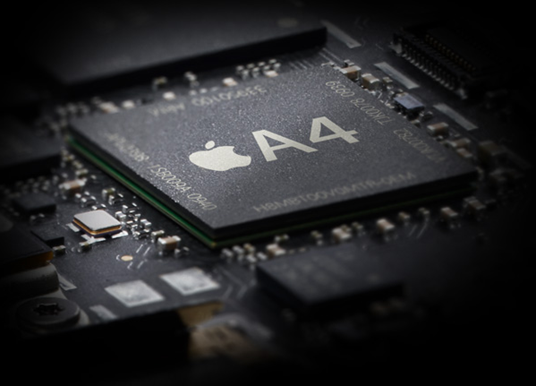 We, along with nearly everyone else, previously presumed that the iPhone 4 [Portal page (updated)] would feature 256MB of RAM. However, to the delight of some 600,000 pre-order customers, which Apple reportedly acquired on the 15th, the iPhone 4 will come with 512MB of RAM, double that of the previous iPhone 3GS and the iPad. The news comes from a WWDC session and was reported by MacRumors.
The prior assumption was based on one bit of evidence, and one inference. The evidence was a leaked photo of an iPhone 4 prototype which was confirmed to have 256MB of RAM. The inference was that the iPhone 4 would feature 256MB of RAM because it was using the same A4 chip as the iPad (which has 256MB of RAM). Apparently between the launch of the iPad and the iPhone 4, Apple was able to double the amount of RAM, which will make the iPhone 4 the most powerful mobile iDevice yet released. Others are pointing out that this is a likely explanation as to why the iMovie app will only be available for the iPhone 4 and not the iPhone 3GS or even the iPad.
Apple may not have been able to deliver the expected bump from 32GB to 64GB storage, but I think I'd take the extra RAM if I had to choose between the two. We'll see if I still agree with that choice after I fill our iPhone 4 to the brim with HD video and have no room left for music!