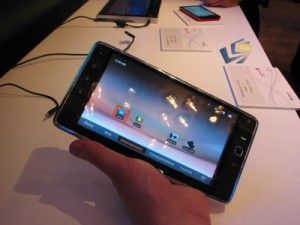 I can't believe I forgot to post the video of the Huawei S7 [information] from Computex. I wrote, excitedly, about it soon after I saw it, edited the video, rendered the video and then promptly forgot to upload it. Thank goodness Liliputting jogged my mind today with a post about the price.
Before you check the price though (Liliputing link below) have a look at the video and see if you can guess the price. I'm not going to tell you what it is here but the title gives you a hint. Come back and comment when you've checked it out, especially if you think I've missed something obvious.
It seems too cheap for a Cortex-based, capacative touchscreen tablet with HSPA, voice, and a full Android build. Why isn't the Motorola Droid this cheap? I'm checking with Expansys. (And buying one if it's fully specified.)
Huawei S7 Android tablet available for purchase.
Huawei S7 Gallery
Huawei S7 specifications, info, videos and links.