I got myself a big piece of Intel info-marketing at the Intel Atom Software Summit this week and it's very clear and very significant that Intel managed to drag something like 200 people away from the Computex show floor for 2.5hrs. Atom, MeeGo and AppUp are such important parts of the Intel strategy now that they are getting pushed hard and it seems to be at least raising some eyebrows. The Intel Atom Software Summit at Computex was aimed at the ODM, OEM and operating system community in an effort bring them all up to date about what you might call the continuum within the continuum. Intel talks about a horizontal line of silicon products that serve different markets (the 'Compute Continuum')but there's a vertical within the Atom segment that includes software, user interface and applications. It starts with 6 Atom silicon platforms that support many operating systems. Windows and MeeGo getting special attention and getting their own application ecosystem which includes an application delivery framework, back-end billing, application marketing and developer support.
Here are some notes from the software summit that I hope outline the key points that Intel is trying to put across. The full slide set is available here. (PDF) More information links are included below.
Session notes
Navin Shenoy – VP Intel Asia Pacific introduced the compute continuum (Xeon, Core, Atom) by saying that "Software is the difference between success and failure inch [slide: "User Experience inch] and introduced Doug Fisher. VP Software and Services.
Doug presents…
[Slide: Mobile Internet is driving, possibly 10B units. ] The message here is that there's a significant opportunity within the internet-connected device category.
Intel is a 'Port of choice. inch Multiple operating environments are offered. MeeGo Android Windows and Chrome were highlighted. [Sidenote: Chrome and Google are starting to appear more in the marketing i'm seeing.]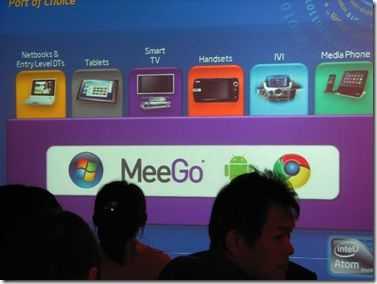 Value proposition Slide: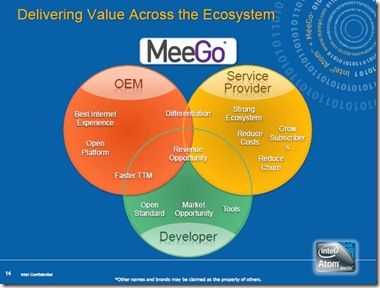 For OEMs:
Open platform – critical for value
Best internet Experience
Faster time to market
For Service provider:
Strong ecosystem
Reduce Churn – consistent environment across ecosystem
Value for Developers
Revenue opportunity.
Consistent tools and API.
MeeGo, joint OS build and UI framework highlighted. May release achieved. 1.0 reviews were good. Highlighted. on slide.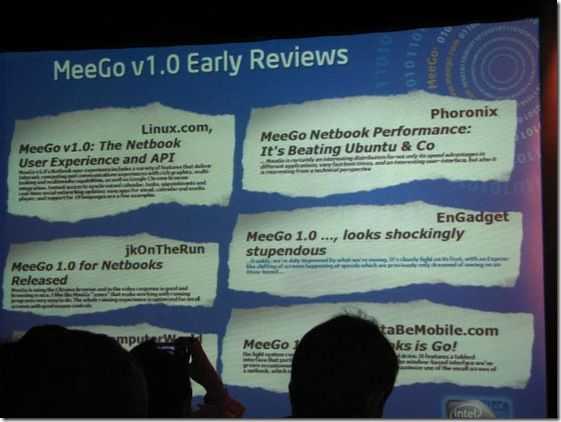 Doug introduced some partners who highlighted their experience and expectation for MeeGo. As you would imagine, all three partners highlighted good experiences and expectations!
Novell's Guy Lunardi talks about MeeGo 1.0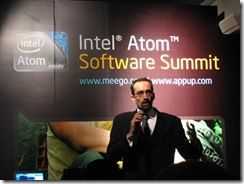 Telekom Italia: We are participating with MeeGo on Cubo Vision. The product was ready in 4 months.
Orange and MeeGo;   Talks about value-add. Truly cross-platform device. No talk about real products. We can assume something is coming I guess.
Doung introduced demos of MeeGo 1.0 on netbook, IVI and Tablet.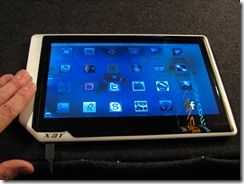 Message to developers: Amount of work to move apps to move from one product to another is minimal. Only 20% of code base re-write needed (user interface)
Tablet Demo:
See video from yesterday for more on the MeeGo Tablet UI.
[Chippy sidenote: I think this is known as 'Info Launcher' and is a product of the MeeGo Enabling Center in Taiwan. It should be available later in the year. Note too that user interfaces are being developed alongside MeeGo and don't fall into the 6-month update cycle planned for MeeGo.]
AppUp – The Intel framework for application stores on MeeGo and Windows operating systems.
Peter Biddle demonstrates AppUp on MeeGo for tablets AND handhelds (video) first time ever.
Peter: We see phenomenal market in consumer software. We are engaging with Dev community. How:Dev program includes tools, sales channel and marketing.
Plea to audience: Work with us to create customers. Peter highlights this as the kick-start. [Chippy sidenote: Intel needs AppUp to be pre-installed on devices to succeed]
Peter talks about the efforts being done. The work to connect with top iPhone devs. Intel have hired some iPhone devs to help define 'small' developer requirements. See slide below.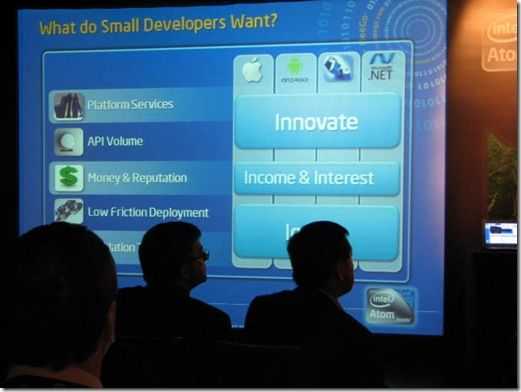 Biddle: We need to enable devs to get reputation because that is a significant requirement for many small devs.
Soma Games on stage: demo game:
Konami on stage: Joe Morris talks about poetential. [Chippy: Would be great to see Konami games on the AppUp store.]
Peter continues on AppUp:
Planning on coming out of beta soon.
Not worried about our ability to attract developers. We need consumers.
Online user awareness campaign has started.
AppUp.com relaunched.
AppUp demo on a Moblin smartphone (port to MeeGo is not complete yet)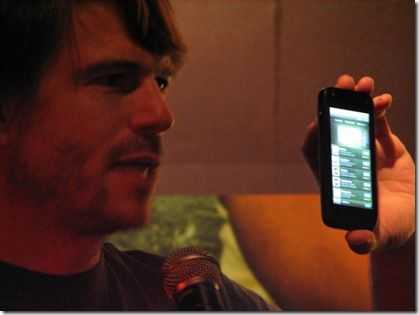 Ellis Wang of Asus on stage:
Highlights the launch of Asus Access Cloud: Built on AppUp for notebook and Eee PC customers. Enhanced AppUp.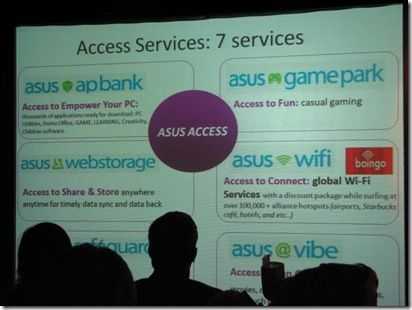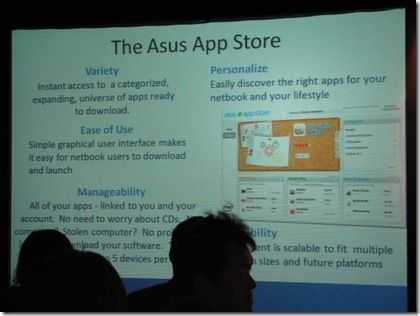 Note that ASUS and Acer have committed to releasing products that use MeeGo so one would expect that this service will appear there too.
Presentation ends.
At an after-event, we were given the opportunity to ask questions.
Is multi-user support going into MeeGo? Yes, it will be added to the roadmap.
MeeGo 1.1 will be released in October and will include always-on, sensor and gesture support. (It will support Oaktrail and Moorestown)
4 main user interfaces are being worked-on by user groups. [Chippy sidenote: I've heard of 5. Handheld, tablet, netbook. In-vehicle and TV]
Intel has no position on the threat of patent issues with MeeGo (i.e.. No comment when I asked them whether MeeGo is guaranteed to be free from intellectual property issues.)
AppUp is not something that will go into Intel's Android build.
Intel's Android build is an official part of the Android work and work done will be sent back upstream.
Intel's intention is to have X86 Android devices recognised by Google. (i.e. marketplace, maps , sync etc.)
The summary here is that Intel want to enable a choice of stacks that can run on Atom solutions. Intel wish to enable an application ecosystem for Windows and in Meego, another, free software choice for some selected markets such as in-vehicle, tablets and handhelds. The big take-away for me though is that a huge amount of Intel marketing effort is going into MeeGo and AppUp.
Related:
My hands-on overview of MeeGo 1.0 on a netbook.
A close-up demo of MeeGo's tablet user interface on an Oaktrail platform.
Intel official slide set from Atom Software Summit
Intel Fact Sheet – MeeGo* and Intel AppUpSM Gain Momentum at Computex