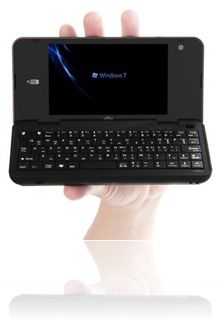 Just as we expected, the Dynamism pricing details for the Viliv N5 that we did our Open Review on last night are now available. Dynamism have sent the details over and as with previous Viliv launches, are including a special offer. If you order between July 6th and July 15th you get a free battery worth $50. That's worth having because the N5 battery is tiny and yet appears to offer 3-5 hours of usage.
As we already know, there are only two models of the N5 available and both are Atom 1.3Ghz based with a relatively fast SSD. The 3G model also has voice capability.
Event Date:             July 6th 1PM EST through July 15th
Shipping Date:         July 19th and fulfilled based on order date
Promotion:              Free spare battery ($50 value)
32GB SSD                $649
32GB SSD with 3G    $799
Details and pre-order will be up at Dynamism later today.
We would have liked to have seen cheaper pricing of course, especially considering the similar UMID BZ is only $499 but the N5 does look (and perform) slightly better than the UMID BZ. With more RAM and faster SSD it's more of a multi-tasker and definitely Windows 7 capable. Remember though that there's no video-out and you only get Windows 7 Home Basic.
JKK and I will continue testing the N5 over the next week or two so keep an eye out for more content from us and if you want to discuss the N5, i've opened a new sub-forum. As usual, all the specifications along with links and comparison devices are in the UMPCPortal database.