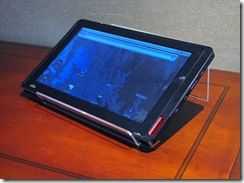 We caught a sniff of a hint that an Android device was in the works when we met Viliv at CS in Jan and here it is. A 10 inch slate-style device with the usual high quality Viliv design and materials that turns out to be one of the best we've seen here at Computex. (It's in the running with the MeeGo tablet and the Huawei S7 for me right now.)
The X10 runs on a Samsung 1Ghz Cortex A8-based CPU and, even in the early stage of the software build looks fast. Check out the brochure image for a few more tech details. The X10 is being penciled in for Q4 and Viliv appear confident that they will get marketplace and Google applications onto the device for launch. I asked about price and the only hints I could get were that it would come in at a price below the Viliv S5. We're looking at the sub $500 bracket here which of course, is a figure you could probably work-out yourself!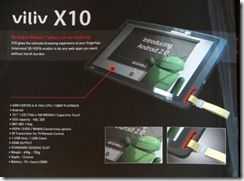 Viliv have also worked on a Windows 7 version of the X10 and I'll have some information about that in a later post.
Check out the video below where I take you round the device, demo a fast racing game which looks great on the 1366×768 screen, show you the Aldiko book reader and  talk about some of the specifications.