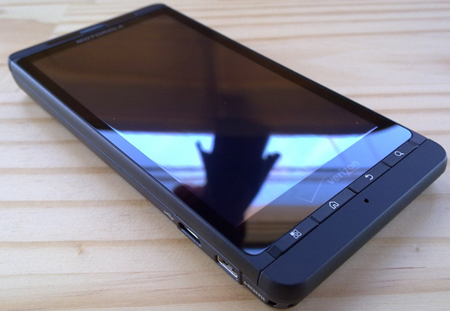 I've been quite surprised by how many of my non-tech friends have heard of the Motorola Droid X. Generally I've found that non-techies pretty much only recognize the iPhone, but Verizon must be doing a decent job of marketing upcoming devices here in the US.
Tnkgrl, who always seems to have her hands on the latest smartphones, has graced us with a great Droid X unboxing. You can find one of her videos below (for the other, click through to her site for the first power-on video).
One of the most surprising things that you'll probably find is how large the Droid X is. The HTC Incredible, iPhone 4, and Nexus One all look quite tiny by comparison. The screen is a whopping 4.3 inch and the only current smartphone screen that I know of that surpasses it is the Dell Streak's 4.8 inch screen [Portal page].
In addition to the videos, tnkgrl has a bunch of great shots of the device in a flickr slideshow.
If you want a detailed run-down of the Droid X's specs, check out our Droid X tracking page in the Portal. There has been some initial confusion over what CPU the Droid X uses, but we've confirmed it to be a 1GHz Ti OMAP 3630 CPU. The Droid X specs that you'll find in the Portal are from an official source, and not cobbled together from rumors.