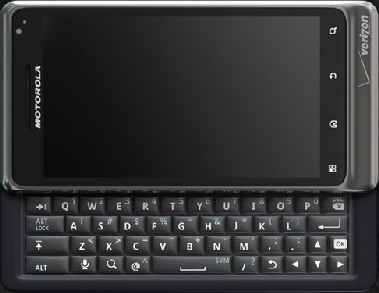 I must say, Verizon is becoming quite the hub for high-end Android powered phones in the US. After the original Droid, they've launched the Droid Incredible, the Droid X [portal page], and now they are updating the original to the Droid 2 which can already be pre-ordered online. Let's take a quick look at some specs:
Form-factor: Slider with QWERTY keyboard (now bigger thanks to removal of D-pad)
OS: Android 2.2
CPU: TI OMAP 3620-1000 @1GHz
GPU: PowerVR SGX
RAM: 512MB
Screen: Capacitive 3.7 inch @ 854×480
Camera: 5MP (only capable of video capture up to 720×480)
While the phone can already be pre-ordered, there doesn't seem to be an official release date at this point, though it could happen before August is out.
Verizon says that there is going to be a Droid 2 "R2-D2 inch edition which will be themed like the lovable Droid from Star Wars, and I'm certain that even more "These are/aren't the droids we're looking for inch jokes will ensue. I must say, if you buy the R2-D2 edition, you are a geek. It's not a bad thing, but there's simply no way around it!
If you want more info, we've got full official specifications in our product database as well as a gallery full of official photos, and if you hang around, you'll be able to join us for some time with the device itself. Stay tuned.