As I was counting the netbook articles on Liliputing this morning (2 on the first 2 pages of 18 headlines) I wondered again if the netbook market might be having more than just a summer break. The push to more powerful devices (and slightly higher prices) with the next-gen CPUs and platforms seems to me like it breaks everything that the netbook was. Its over and all that remains is the momentum of the tag (which of course will be carried forward by everyone that has invested in it.)
Sasha, my good friend and fellow MeetMobility podcaster is one of those that has a lot invested in the keyword so it's interesting to read his thoughts on it. In an article today he highlights the advances that the new platforms will bring and assures us that everything is going to be fine. If you can wait until February, he says, you're going to have a big selection of new devices to choose from.
I have a certain amount of my business effort invested in netbooks too. If the netbook hadn't have arrived my company would have been dead a long time ago and, like the iPad, it makes people think and mobility, size and usability. I'm not so bullish on the future of netbooks though. There are a couple of data points I'm considering and a number of other thoughts.
Google Trends
Google trends is hardly the best indicator of sales but it does indicate popularity amount searches and popularity amongst news items. Netbooks are certainly taking second place to tablets in terms of news right now and it seems that the slow down in news is also affecting users awareness of the platform. That will have a direct impact on sales. Searches for 'netbook' are now running at less than one fifth of searches for Android or iPad. This time last year, Android and Netbook were attracting exactly the same level of search queries. Having said that, there are almost the same number of queries for netbook as there were one year ago. Only the number of news articles has fallen.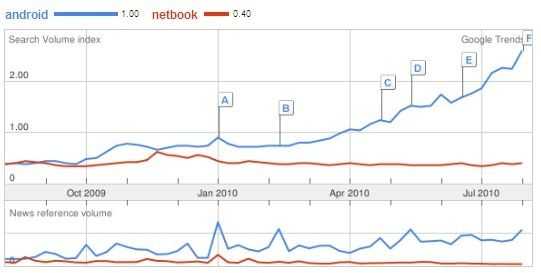 Number of Netbooks.
By analysing the German netbook market SKU numbers and the distribution of screen sizes over the last two years it can be clearly shown that the sub 10 inch market is long gone. The 10 inch market is flattening off in terms of new products and only the 11 inch segment is rising significantly. In this months analysis it's also clear that the total numbers of products is flattening off which could be an indicator that growth has stopped in Germany. Again, the underlying trend is one of 'flat' rather than growth or decay. If this can be maintained, the netbook market will remain healthy but with new product launches sowing, it will be difficult to keep momentum. Of course, if devices are simply dropping the 'netbook' tag in their marketing then the devices may must be selling as 'laptops' although that in itself indicates that the netbook trend is over.
Based on simple screen sizes and weight figures, the traditional netbook market is already over for me.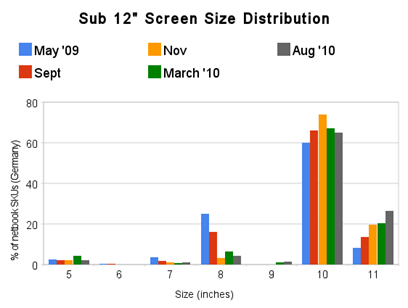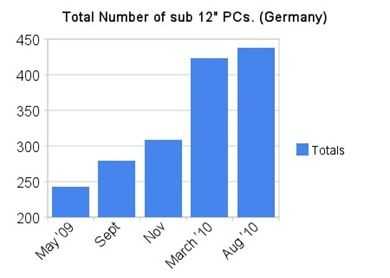 Pages: 1 2