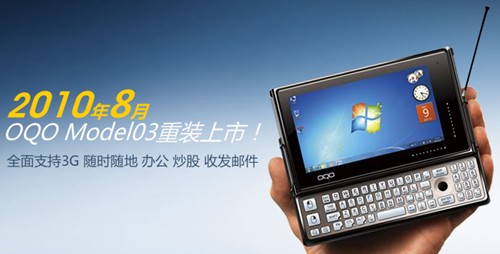 A very interesting bit for the ultra mobile PC world has just come to our attention. User aekayser from our forums has pointed out that the site www.oqo.cc is now showing something that they are calling the "OQO Model03 inch. You'll probably recall that OQO sadly went out of business in April of 2009 just before they were able to get the Atom powered OQO Model 2+ [Portal page] into the hands of customers. This was a sad moment for ultra mobile PC fans, but new hope may be emerging for anyone willing to pay premium prices to get their hands on this "OQO Model03 inch which is an upgrade version of the OQO 2+.
The entire site is in Chinese, but I've extracted as much info as I could using Google Translate.
Oqo.cc appears to be the official Chinese arm of OQO An article on the site dated December 12, 2007 notes that "Austrian Technologies Co., Ltd. Beijing Century OQO exclusive commissioned by the United States, will complete the Greater China business. inch It would seem as though Oqo.cc went into hibernation after the US OQO went out of business, but now they have returned.
In an article dated July 18th, 2010, the OQO's return is heralded with the hilariously translated headline "Return of the King! OQO Model 03 heavy equipment listed! inch The new Model 03 is of the Atom variety and features a 1.2GHz Z515, 1.6GHz Z530, 1.86GHz Z540, or 2.0GHz Z550, depending on the edition. Other notable changes include Windows 7, "WCDMA \ EVDO \ TD-SCDMA and other 3G network support inch, and supposedly a multi-touch screen. The same article says that this device will be launched in the "third quarter of 2010".
Check out the specs list for the top end "Special for the Version of Industry inch model (I think it's safe to assume that this means Special Industry Edition):
Operating system

Windows 7

Processor

2.0 GHz Intel Z550

Memory

SSD 128GB

Memory

2GB

LCD

4.8-inch bright LCD screen (supports 1024X600)

Touch mode

Multi-touch

Graphics

GMA500

Sound Performance

Built-in speaker and microphone

Communication

Wireless LAN, Bluetooth 2.0 chip, 3G, Ethernet (optional), etc.

Computer Interface

High-speed USB2.0 port headphone jack DC power input port HDMI port

Interface expansion slots

Power input port VGA port Ethernet interface (optional)

Input Devices

Built-in keyboard pointer keys

Battery Type

Polymer lithium battery

Power adapter

V AC 12 V DC/100-240

Supplied Accessories

Standard Battery Double the battery power adapter




Manual and the Windows CD

Volume

14.32 × 8.42 × 2.78 cm

Weight

426g (built-in standard battery)

Price

31,888 yuan
Looks cool huh? It's still going to be an ultra-premium product just like the Model 2+ that 31,888 yuan is around $4700 USD!
As far as I can see, there is nowhere to purchase any of the OQO's that are offered on the site at the moment. I've dispatched an email to the company to see if they really will be selling the Model 03. Fingers-crossed for this legendary UMPC. We'll keep you updated as we find more info.