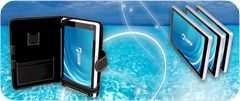 Yesterday, in Part 1, I talked about 3 tablet products. Today, there's more and the first one is something that shouldn't be a surprise because Smartbook AG have released a 'Smartbook.' The only problem is that I don't see this as a smartbook. A smartbook to me would be in the laptop/netbook form factor and have an advanced CPU that brings enough power for a quality web, gaming and application experience along with an application store. Smartbook's Smartbook Surfer runs an ARM11 based Telechips CPU and has a basic Android 2.1 install with, as far as I know, no Gmail, maps or marketplace. That's not to say it's a bad product because at 170 euro with GPS (possibly not in the 170 Euro version) HDMI-out, stereo speakers and a case, it's worth considering for basic coffee-table and holiday duties. If you've looked at the Archos 7 Home Tablet.
The final 7 inch tablet to talk about is the Viewsonic which is in a different league to the Smartbook Surfer. It's a rumor but looks likely to me considering the Viewsonic branding we've seem on prototypes around the trade shows this year. Stuff.TV indicates that it will be running Android 2.2 and have 3G, hi-res cam and GPS options making it a competitor to the Samsung and Huawei slates. They say that is will launch in the UK in about 2 month. Again, this is a rumor, but it seems likely.
Before I move on to the other news items I want to talk briefly about smart books. I've been very positive about the possibility of ARM and Android bringing an always-on, social, fun and lightweight netbook alternative to the market but as yet we haven't seen anything that really hits the mark. The hardware is there in my opinion but it was always the Android build that fell short. Both the Compaq Airlife 100 and Toshiba AC100 were build on open-source Android and included none of the important, even critical elements of sync, Gmail, maps, marketplace and other Google software. For a category that would benefit from software re-writes, not having a software delivery channel means no developer is going to bother with the opportunity. I'm 100% sure that Google and ARM know about this and the stars seem to be pointing towards Android 3.0 (codename Gingerbread) as the solution. It will finally branch Android out to non Smartphone devices. Why the delay? I suspect Google is re-writing some of its apps to suit WVGA and higher resolutions just like Apple did with their apps on the iPad. As for timescales, I suspect we won't see anything until the last weeks of 2010 which is just about when MeeGo/Moorestown based tablets will hit the scene. The differences between the two hard/soft platforms will be clear at that point.
Did you see the new renderings of the Eking slider UMPC? It looks similar to the design we saw in plastic form with Wibrain (sold to Eking) in Sept 2009.
It also looks a lot like the Mui HDPC. I remember using the Amtek U650 in 2007 and liking it a lot. If Eking can bring this to market on Oaktrail with some quality engineering and better aesthetics, it has a chance in the ultra mobile PC market but maybe it would be more successful as a 'smart' product on a Cortex A9 core with Android 3.0? Slimmer, always-on, great for Android gaming? Just a thought.
Here's something about MiFi-a-likes. I've been using the MiFi for over a year and it's been a great product but I'm disappointed that there haven't been any upgrades since launch. The GPS remains unusable, I get the occasional lock-up, it gets very warm, it's impossible to remember to indicator meanings and the battery life needs to be more than 4 hours. Novatel will fall behind if they don't watch out because the new Huawei E583C looks to match the MiFi's current capability and offer an OLED display panel on top. The idea of an on-board application processor sounds attractive with the MiFi but there's no software for it yet so why bother? I'd rather save 40 or 50 Euros and take the E583C to be honest.
Other news I've 'starred' over the last few days of catch-up time…
Clearwires Apple-centric 4G hotspot.
Motorola-Verizon Tablet with FIOS TV.
Nokia's take on the MeeGo handset UI.
Android 2.1 on the Dell Streak
'Watchlist' and 'Events on the next page…
Pages: 1 2