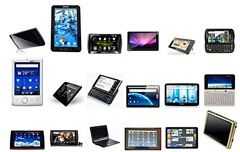 Bob Morris, head of the mobile computing division at ARM, is telling us that the Dell Streak is just the first in a line of more tablets that will arrive from various vendors in time for Christmas. I guess if anyone should have the inside info on this it's Bob so it's a good sign.
We're clearly looking at Android as the de-facto Q4/Q1 2011 operating system solution for most of these tablets and although Froyo with Flash 10.1 is a great starting point, there's still a significant number of big question marks that keep me sceptical. I know Nvidia, ARM and others have talked about waiting for Flash and 'fall' but there's more to it than that.
How about Google Market? This is becoming more secretive than Adsense or Google's Search algorithm and one wonders just how much money Google are now making from it. The Dell Streak got Market by being a large well-branded company that effectively designed a Android smartphone but what about the others? Every device that didn't have marketplace/Gmail/contacts/maps so far has been highlighted as an incomplete Android product. Sideloading and 3rd party app stores aren't the fix either. The second problem is that there needs to be a new suite of >=WVGA, large screen (mdpi-large in Android speak) apps before the first reviews start otherwise the whole Android tablet ecosystem will be tainted with poor early reviews. Bad news never seems to fade from search engine results so Google needs to re-build their app suite for mdpi-large (or even mdpi-maxi as 'large' only goes to 5.8 inch screens.) If Android is to have a chance at getting more productive applications in the store (as Apple have already done) Google also need to give developers a chance to prepare new versions of their apps. That can only happen if Google stimulates the developers by announcing Android 3.0 or a new phase of tablet-focused work. Give us a sign Google. Apple gave some devs a three-month head start before the product was launched. Although this was a restricted program, it was instrumental in creating a good day-1, week-1 buzz.
Link: Overview of tablets available, announced and expected
If I was an Android Tablet OEM right now I'd be considering waiting for even more than the above.
Cheaper Cortex A9 platforms and proven Android hardware builds. Cortex A8 is still good enough but to make a serious marketing splash, dual-core A9 is now needed.
Clarification on what the hell is going on with Chrome OS (touchscreen support looks likely)
Concrete information about Android 3.0 (Apps suite, developer take-up, information about ARM-optimised kernels)
IDF (Sept) and MeeGo 1.1 (Oct) (To asses competing product timescales)
Racing to get a product out for Christmas sales could be too risky and the whole 'smart' tablet market could suffer if a big name gets it wrong. Like you, I want products NOW but i have the feeling that the iPad will be a year old before we see any serious competitors.