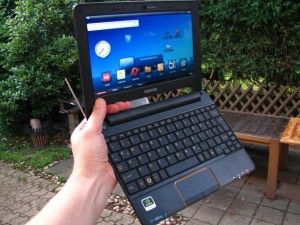 Fresh from the DHL van it's the first Tegra2 device to hit the ground. Most will be calling the Toshiba AC100 [details] a smartbook and it certainly creates a smart impression. Super thin and light with a great-looking 1024×600 glossy screen and nice user interface. This may be running AOS (Android Open Source) 2.1 but it doens't look like it. Toshiba have done a resonable job of filling in the gaps.
Plastics are a little on the cheap side but the keyboard is good as is the mouse-pad with scroll area and dual mouse buttons. One point to note is that the video player, while blowing me away with a 1080p playback and ability to handle a 8.5Mbps WMV and 6.5Mbps DivX out of the box, is somewhat buggy. Three lock-ups (requiring reboot) in the first hour left me feeling that the firmware was rushed out for IFA. Fortunately, Toshiba include an OTA firmware upgrade app so i'm going to be checking it regulaly.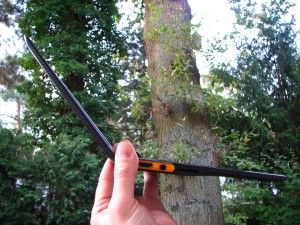 Oh, the media player suppors uPnP devices too.
Finally: YouTube Unboxing Video now available.
We've also got three much longer  videos from the live session:
2 – UI and Apps
3 – Deeper look at browsing, video, YouTube and other features.