My current laptop is a netbook. I've been using it as my portable computer for well over a year and I'm very happy with it. I'm using XP, it's got a 2GB RAM upgrade and a fast SSD and a great built-in 3G module. The only issue with it is that any other netbook out there is a downgrade for me because switching to Windows 7 on a standard netbook is noticeably slower.
That all changed today when I took on the Acer D255 as a loaner for the Intel Developer Forum I'm attending this week. [Thanks to Intel They paid for the trip over here] It's truly the first netbook I've used that gives me a smooth and reliable Windows 7 experience and having already tested battery drain, 720p playback, Crystalmark and video rendering performance, I can say that it really does well, It's light and Sascha (Netbooknews) tells me it only costs 350 Euros. That's a stunning price for 6-8hrs of dual-core action.
Here's a little look-round on the device. See below for some early benchmark results.
I've done three benchmarking tests on the device. The first is a battery drain test and I'm pleased to see that Acer appear to be getting the best possible out of the platform. With screen brightness at minimum and Wifi off I was able to get a figure of just 4W. With Wifi on, that went up to 4.6W. Average drain for web browsing is around the 7-8W mark which means that the 49Wh battery is going to give a good 6hrs of action. Rendering a video with all cores and at 100% i was 11W of drain. For a device that weighs 1250 grams thats pretty good. A better quality 6-cell battery could yield even better results.

I terms of CrystalMark, I'm seeing results that will make anyone happy. 35K is not a figure we see often in the mobile computing world. The hard disk is impressive to.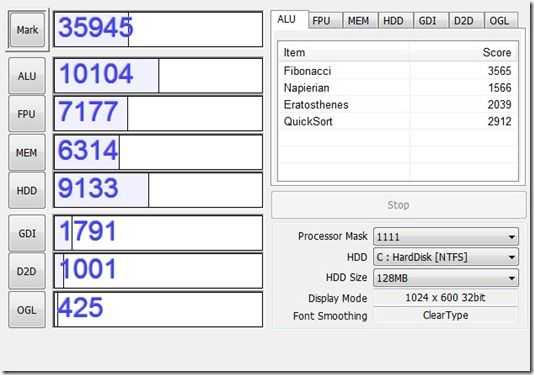 My final benchmark was a video rendering test. It looks like I'm going to save 25-30% in terms of time on rendering and that's well worth the 50-euro premium that a dual-core Atom netbook is costing.