It doesn't matter if you love Apple or if you hate them, they are setting the quality bar for consumer MIDs.
The iPod Touch has been a well built device since the first generation, and with the fourth and latest generation, they're upping the ante once more.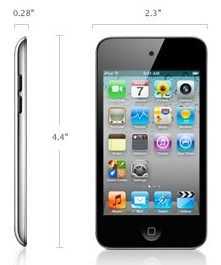 The new iPod Touch is incredibly slim at just 0.28 inch (7.1mm), and yet the battery life has actually been increased. Apple claims that the new iPod Touch will play audio for 40 hours and video for 7.
While we're on the subject of video… the iPod Touch is now equipped with the iPhone 4's "Retina display inch – Apple's fancy marketing terminology for "really high pixel density inch – this is a four fold increase over the previous generation's 320×480 screens, pushing the resolution all the way up to 960×640. The difference is quite impressive if you've been using an older generation iPod Touch for years. In addition to the screen, the insides have been updated to Apple's A4 chip (the same one found in the iPad and iPhone 4.
Apple has included a front and rear camera on the iPod Touch which is going to make FaceTime chatting very prevalent in the US. This is the first implementation of video conferencing that will be easy enough non-techies to just pick up and use, and if Android doesn't do something similar, they'll soon be left in the dust in this area (of consumer friendly mobile video conferencing). Expect kids to be sent off to college with a sparkling new iPod Touch so it will be easy for them to stay in contact with their iPod Touch wielding parents back home.
The rear camera is somewhat of a mixed bag. It can do 1280×720 HD recording at 30 FPS which is great (you can expect to see the number of amateur HD videos on YouTube spike in the coming year), however, photos can only be snapped at a rather pathetic 960×720 which is only about 0.6MP. I was hoping that the iPod Touch would include the same quality camera that is found on the iPhone 4, but it seems that this is not the case. Still, the camera will likely take better photos than non-smartphone camera-phones (which iPod Touch users are likely to be using).

Without question, millions of these devices will be sold. Yes, Apple is a marketing maestro, but regardless of what convinces people to purchase the iPod Touch, they are buying a great companion for a great price. Intuitive and useful calendars, email, web browsing, gaming, music, and apps are now joined with effortless FaceTime video chatting, an incredible display, and HD video recording in a pocketable package that has enough juice to last you through the day, all for $229, $299, or $399 for 8/32/64GB and available next week.