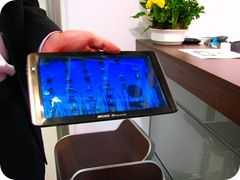 10 inch consumer tablets don't seem to make much sense to me. I can't think of any scenarios that need that much space apart from newspaper and magazine typesetting. Sure, a netbook running a multi-windowing OS could use a whole lot more space but when I look at Android tablets that show one window at a time through apps that were created for a maximum 5 inch screen I have a problem. Having said that, there's a special feeling one gets when touching and moving huge web pages smoothly across such an area when the screen is only 50cm from your face. Video becomes more immersive too, especially when it's good quality. The challenge is to create a large screen at a very low weight. A low price always helps too!
The Archos 101 [specifications and details] does 10 inch in 480gm. That's an impressive size/weight ratio and when you add in a price of just $300 you have to agree that Archos have set out in the right direction with the 101.
Its almost no surprise that the Archos 101 doesn't include Google Applications but there's a lot more to get excited about. A full range of codec support, USB host (with full-size USB port) and a good level of processing power. It looks good too which is important when you're aiming for as many coffee tables as possible.
Personally I still think that 7 inch makes more sense for a single-window experience but if you're looking for an impressive gift for yourself, big is always better right?
Full specifications are in the database, a Chippy hands-on is shown below and we hope to be testing this out further as soon as we can. Note that the test devices at IFA were all running Android 2.1 Android 2.2 will, without a doubt, speed this up to very acceptable levels.