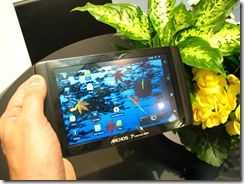 Most of you will have heard about the Archos 70, part of the new range of tablet devices being launched over the next few months. Archos have stripped away their recording software and docking station, bumped up the processor, improved the operating system and hit a very competitive pricing point. Add features like HDMI, USB host, capacitive multitouch, multiple video format support and you've almost got a full Android Tablet specification list. It's not complete though. While 800×480 might be acceptable as a resolution, the lack of Google applications isn't. No Gmail. No free Google Navigation, No Contacts sync and of course, no Google Market. We've experienced it on the Archos 5 and it really is noticeable.
Having said that, if you consider the Archos 70 as a sofa tablet, car tablet, holiday tablet and bedside tablet, you've got a video and audio player that returns a great browsing experience and offers a stylish way to view photos and ebooks. If you've got a way to 'sideload' some Android applications you'll also benefit from some really great applications for entertainment and communications.
Pricing is $275 and it's coming in Sept or Oct. Note that it might ship with 2.1 but 2.2 will, apparently, follow-up very quickly.
We've had some hands-on at IFA and this is how it went…